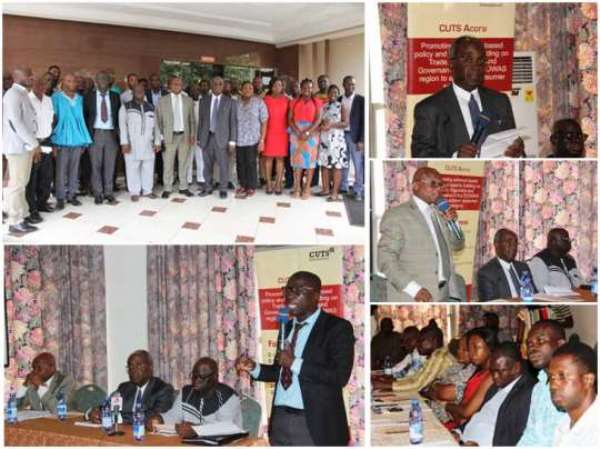 Mr Appiah Kusi Adomako, Centre Coordinator, Customer Unity and Trust Society (CUTS) Ghana, has called on district assemblies to intensify education on the importance of property rate to increase revenue mobilisation.
He said tax education helps taxpayers to have sufficient knowledge of the tax laws and procedures and gives them confidence and ensures credibility, transparency and accountability in the system.
Mr Adomako made the call on Wednesday in Accra, at a Metropolitan and Municipal District Assemblies (MMDA) Capacity Building Workshop, on the theme: 'Maximizing Revenue from Property Rates'.
The workshop was to equip participants with tools and contemporary approaches for increased property rate mobilization and examine various ways of utilizing property rates and impact on stakeholder trust.
Mr Adomako urged the assemblies to organise town hall meetings with property owners and opinion leaders and engage them in the use of tax revenue and the community needs.
He said there was the need to increase revenue through property rates because the country was moving from aid to trade and it was imperative to enhance domestic revenue mobilization.
Mr Adomako said the District Assemblies Common Fund of 7.5 per cent of all internally generated revenue distributed to all the 216 MMDAs to undertake development projects was inadequate, hence the need to focus on property rate mobilization.
He urged the assemblies to modernise their operations and build a database through the use of ICT, adopt the right collection process and ensure proper evaluation methods as stipulated in the Local Governance Act, 2016 (ACT 936) Section 149, Subsection 9.
Dr Nana Ato Arthur, the Head of Local Governance Service, noted that, some district assemblies' way of collecting internally Generated Fund had been poor and urged them to develop innovative ways of mobilising revenue for local developments.
He said an effective monitoring system was critical in revenue mobilization and helps to ensure transparency and accountability and reduce corruption.
Dr Arthur said his outfit would institute a performance contract with staff of MMDAs and build their capacities to improve service delivery.
Dr Abdulai Darimani, the Acting Director in charge of the Institute of Local Government Studies urged the district assemblies to ensure proper identification, registration, assessment and valuation of properties to increase revenue collection.
He called for stronger integration between government agencies and other bodies such as the Chiefs and opinion leaders to strategise efficient ways of improving revenue collection in the assemblies.
Dr Darimani assured the assemblies of their commitment to collaborate with them in addressing any pitfalls hindering the effective collection of revenue at the local level.
Some of the participants the Ghana News Agency spoke to expressed concern about the inability to valuate properties in the assemblies and as a result resort to the payment of flat rates.
They called for collaboration with the land valuation authority to have a credible database for monitoring and 7to increase revenue from property rates in the various assemblies.