March 6, 2018
|
Opinions Opinion/Feature
Re: Ghana To Lose A First Lady In 2018 - Prophet Nigel Gaisie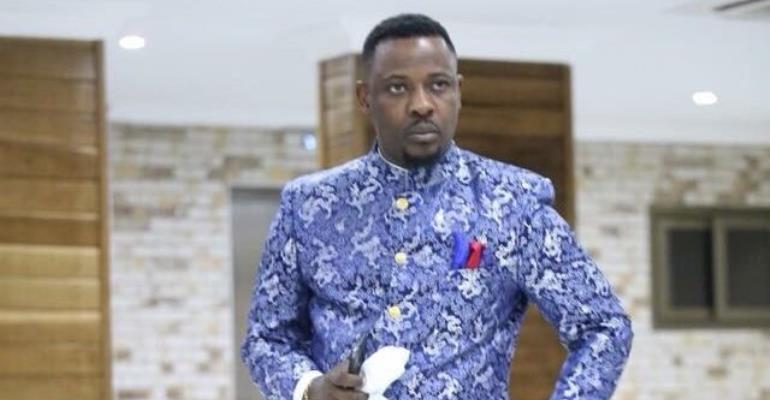 Fellow Ghanaians, Brothers & Sisters in the LORD: Listen: Both young and old people die; Spiritual & Non-spiritual Men & Women Die; Rich & poor Die. Because of the seeming finality of Death; there are all kinds of Anti-Death Professionals- the worst of them being False Prophets, Mallams, Fetish Priests and Fake Drug Practitioners.
Let us consider what Nigel Gaisie calls a Prophecy: That a Firs-Lady from the NPP will die this year- if the whole Ghana does not pray. Now there are only two who fit this bill- Mrs. Theresah Kufour who may be in her late seventies or early eighties; and Mrs. Rebecca Akuffo-Addo. Obviously, most NDC supporters- including this Evil-Minded man- will not pray for any NPP man to be alive. If Mama Theresah dies today- I believe the LORD would have called her home. And no one will receive any glory for predicting the death of someone who has served well and is called home at her age.
The real news would be if Mrs Akuffo-Addo is the one this nincompoop is targeting his nonsensical 'prophecy'. If he is a good-natured human being- why did he not go to them, send someone to them or invite them? Obviously he wants the media limelight and the publicity. He does not care about the trauma and uncertainty he discharges into homes and the society at large. He is Cruel, Crude & Crazy!
A question to this Crazy fella is what quantity of prayers MUST Ghanaians pray to BAIL any of these two from Death? How many should do the prayer, where, and for how long? What will be the 'Glory of God' if both of them lived or any of them died? None- it is the glorification of a Mentally-Retarded Bed-Wetter.
Our LORD Jesus Christ rebuked Peter heavily for Opposing HIS Death- when HE had announced HIS Death- Ordained Destiny to His Disciples. Peter, who spoke like this False Prophet Gaisie under my radar- felt that Death was the Worst thing that could happen to the Messiah. In fact Jesus rightly discerned that Satan was the one instigating Peter to oppose HIS Death. "Get thee behind me Satan"; HE commanded. Most of these Death-Predicting False Prophets are FULL of SATANIC RUBBISH! If Nigel Gaisie is the Prophet he claims he is- I command him to tell us how and when he, his wife and children are going to die? These are the people Mr Ibu of Nigerian-Films Fame will call 'Idiot'.
Do you see that whatever happens to any of these two Mothers-of-Ghana; This STUPID 'Prophet' wins? If they continue living- it is the 'Prophet'; God forbid- if any dies- it is the result of this STUPID person's 'prophecy'. Why do we allow MADMEN to thrive so much in this country? And we give our monies to them- and they use it for their WORTHLESS ventures. The Scripture says- "What we Sow; We Reap". I pray that the torment and fear all these FALSE-DEATH-PURVEYORS afflict society with; Will Boomerang on their own heads, and consume them and their beneficiaries in more abundant measures. If they will not STOP their NONSENSE; may they be eaten alive by every incurable and tormenting condition that brings Pre-Mature DEATH and Total Destruction. Still on the principle of 'Sowing & Reaping': "If Ghanaians do not Pray; False Prophet Nigel Gaisie WILL DIE by December 31, whiles giving FALSE Prophecies in his Church; All those who Support and Benefit from his False Prophecies Will suffer from Diseases no one can cure".
Ghanains, in this Dispensation of Grace, Christ lives in His children through the Holy Spirit. He speaks to all who Study His word and Pray to HIM. The Lifespan of Every Believer is Pre-ordained by God. Christians are here to fulfill their God-given Destinies- not just for longevity. Friend, SEEK GOD for yourself. Most of these FALSE Prophets are Agents of Hell, and are Hell-Bound. They are Dirty Criminals. Look at the way their lives end. You will make a Big Mistake if you allow Fear of their 'prophecies' to push you to them. They will take as much money as possible from you. They will instill much more fear into your life. They will enter your life and business, break down your confidence in God and make you their slaves. Instead of reading the Bible, they will seduce you to put your trust in their STUPID analyses and words.
Prophecy in our Dispensation is for Open Preaching of God's Word to win Souls. It is to encourage Believers to Study the Bible, Pray, Live Right and Love all men. It is for Preaching against Evil in the Society; Encouraging Leaders to do the Right & Rebuking them if they Oppress their Nations. Prophecy is Worshipping and Praising God. Prophecy is bringing the Glory of God to bear upon the Circumstances of this life. Prophecy may also serve to declare God's Divine Intention, Direction and Prescription for Nations, Churches, Institutions and Individuals. "If you meet a Prophet- you've met a Man with Passion For God; a Man of Prayer; a Man of God's Word; A Man with a Shrewd Understanding of the Operations of a Society; A Man of Wisdom and Knowledge; A Lover of Men".
Recently a nineteen-year old son of one of these FALSE Prophets- Kobbi- died. May the LORD have mercy upon him. But these guys walk about with airs of 'omnipotence', and yet suffer the same maladies- which they falsely claim others must not suffer. And they- the prophets alone- have the capacity to deliver all others from. This is why we must all study the Bible well, pray and be humble in our conduct. I am on your case- False Prophet Nigel Gaisie and your Ignorant & Irresponsible bed-fellow.
Repent of your Pride & Arrogance. Humble yourself & study your Bible well. You are a Liar and a Disgrace to God's Church and Ghana our land of Pilgrimage. How I wish you would be Saved.
God Save Us All (GSUA)!
Adomba, Gtaceland