RE: Opposition Hoots At Speaker: Liken Him To Iddi Amin!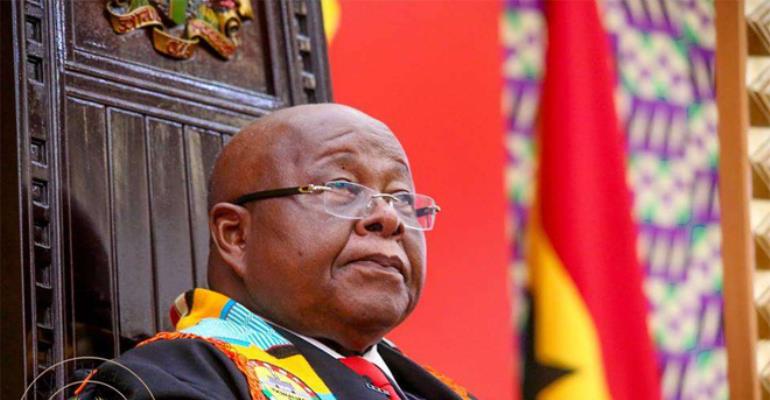 Hooliganism in Ghana's Parliament? They are in the Minority- and yet will want their IRRESPONSIBLE DECISIONS to Prevail Over the Majority's. They want to effect a Coup'd Dat in Ghana's Parliament. This is PURE NONSENSE. If they are Disrespectful enough to HOOT at the Speaker of Ghana's Parliament- My Speaker & Your Speaker- Haruna Iddrisu & his Gang DESERVE No One's Respect. Ghanaians - Shine your Eyes- these guys are up to something more sinister than meets the eye.
They want to BLACKMAIL & INTIMIDATE the Speaker- so that he may Acquiesce to their Whimsical Demands & Allow them to Misbehave in the Chamber. Who has been more honorable in his conduct in the House- The Speaker or Haruna & His Bunch of Dishonorable Men & Women? Their Irresponsible Demands on the Speaker have become Legendary & Criminal.
They are in the Minority, but they have the effrontery to claim that they can raise a 2/3 (66.67%) Majority to overturn a Bill. If so, why didn't some in the Majority stand up with them when they were opposing the Speaker's Ruling? These same 'Bunch' claim that they have the power to Impeach the Speaker. Twice they have demanded for Bi-Partisan Committees to Probe Bogus & Fraudulent Issues- these could have easily been confined to the Dustbin of History for its Frivolity & Rascality- but Rev Prof Mike Ocquaye, A Senior Cleric; A Senior Professor; A Senior Politician & A Retired Very Honorable Member of Parliament; A Senior Legal Practitioner and A Senior Ga Native & Leader- together with a very Honorable Majority Leader & his Cohort- decided to go the Extra-Mile with a very Disrespectful Opposition- and gladly accepted the formation of the Committees. On both occasions the Lack-of-Substance in the allegations were wholly confirmed and their diabolical intentions exposed in hyperbolic measures.
The Opposition is working very tirelessly to Reduce Parliament into a Medium for both WITCHES & WIZARDS HUNTING. They Float a Worthless Rumor; Haruna Iddrisu arises in his 'Huhudious Glory' in Parliament: "Mr Speaker, I demand a Bi-Partisan Probe be formed in accordance with the Tamale North Article 10000; Sub-Section 100001 of the 'We Are in a Comfortable Lead' Constitution". "Mr Speaker if you do not do it, I will DISRESPECT YOU- do you hear? I am in a Comfortable Lead, and no one can stop me.
You say 'Am in the Minority' but you know nothing. I Haruna, I am wild. I can shut Parliament down. I can hoot at you. My supporters are wild. We can bring Ghana on her knees". "I have people like Shining-Head Okudjeto- Ready to Mount Radio Gold and Announce our Rebellion like he did in 2008; Nii Lantey Vaderpuye- A Re-Incarnation of Amartey Quaye of the 'Murder of the Judges' Fame; Fiifi Kwettey- the Most Eloquent and Powerful Cross-Border Sign-On from Togo; Mustapha Chinchinga Muntaka- His Chinchinga Sticks are his Most-Potent Weapons; Alban Bagbin- Ready with the Two-Sisters he Married Together- Mr Speaker- they will attack your 'Balls and Whuar' With Presidential-Ambition Anointing; Dr Adongo, the Atongo of Joy FM Fame- He is a Screamer and Brawler- Right or Wrong- He is Always Right.
I reserve the rest of my team for now. We can Impeach you; We can Remove you from Office; You are the Worst Speaker Ever; Both Islam and my Dagomba upbringing tells me to respect you- but I will not. Kwame Nkrumah gave me Free Education. Am a Lawyer; the Constitution gives me Freedom of Speech; I know how to talk well; No One Can do me whuu. My WILL will Prevail over Ghana. Am above all".
Folks this is the kind of Opposition we have. Listen Folks, Ghana will not kowtow to Bogus Oppression again. Haruna and his Crowd were singing the National Anthem in Parliament when Addo-Playman was there the last time. The Anthem applies equally to us all- except the Rebellious & Criminals who are trying to make Ghana ungovernable in order to escape Criminal Prosecution for Political Armed Robbery (PAR).
Our people are tired of the Political Buffoonery. May the Collective Spirit of Patriotic Ghana, Fight & Overcome all her Enemies & Detractors. If for nothing at all, Prof Mike Oquaye is a Very Honorable Senior Citizen. "Honor you Father and Mother, that your days may be long on the Earth". Haruna- does the Koran say it in a different way? Or it is not in the Koran? "God, Please Exalt the Humble & Resist the Proud till they Repent. If they will not, Reduce them to Nothing-ness". God Is Great (GIG)!!!