Informal Businesses Encouraged To Join 3-Tier Pension Scheme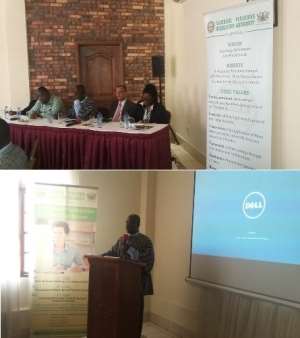 The National Pension Regulatory Authority (NPRA) on Thursday called on the media to educate the people in the informal sector to take advantage of the third tier of the National Pensions scheme to contribute towards their future.
Mr Hayford Attah Krufi, Chief Executive Officer NPRA, said the third tier of the Three-Tier Pension Scheme gave an opportunity for the informal sector members who were previously not covered by pensions to contribute for the future pensions.
Speaking at a training organised by the NPRA for Journalists, he said the notion that only people in the formal sector could contribute to and receive pension payments was no longer true as others who were not covered in the mandatory 1st and 2nd Tiers, could use the 3rd Tier voluntary contributions.
Those in formal sector, who made mandatory contributions to the 1st and 2nd Tiers, could also make voluntary contributions into the 3rd Tier enhance their pension benefits.
He stated that, since individuals in the informal sector were largely not documented and did not have defined employer-employee relations where a scheme can be set up, the employer will pay on their behalf, the NPRA worked mainly through unions and cooperatives, to educate and sensitize their members on the need to contribute for their pension.
'We have had a number of Corporate Trustees tag along on such sensitization activities and have enrolled them onto schemes effectively,' he said, adding that the Trustees were also taking the initiative to setting up products, which were tailored to aim at the informal sector.
Mr Krufi explained that contributions made into the 3rd Tier were divided into two: a provident fund and a personal pension scheme. A self-employed contributor to a Tier three pension scheme may withdraw part of the accrued benefit in the Provident Fund or personal savings account, while proceeds of the Pension account will be held in Trust, to be paid only on their retirement, as monthly or quarterly pensions.
The three-tier pension scheme was established by the National Pensions Act, 2008 (Act 766) as amended, which replaced the previous social security scheme and other parallel pension schemes.
The NPRA sensitizes the public on matters related to the various pension schemes, responsible for ensuring compliance with the National Pension Act and established standards, rules and guidelines for management of pension funds.