Ghana 2016 Elections Told In Fadi Dabbousi's 59 Dark Hours: A #Free Speech Campaign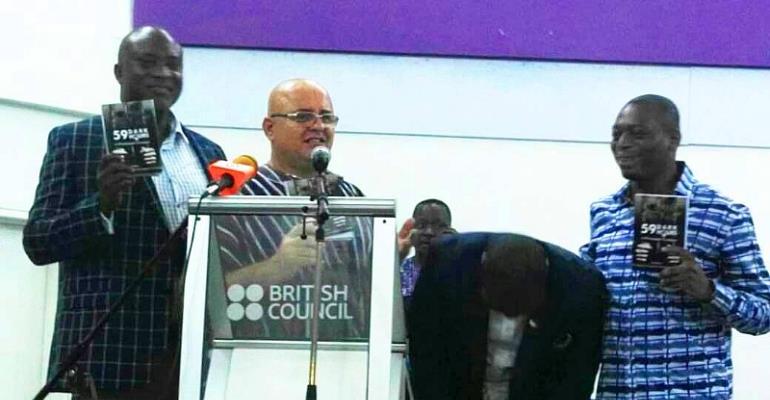 "I was sad that in spite of the fact that we, together, with President Nana Akufo-Addo were putting our all in the campaign towards elections 2016, some unscrupulous souls in the NPP had sold their souls to the devil in the NDC. A story of treachery and betrayal began to shape up, and, here, I am telling it as it was. Cases relevant to this story are rampant the whole world over, and in many a political party.
Luckily, it is neither unique to our nation nor to Ghanaian politics. However, the shocker that would knock the nocturnal jitters out of any person was in the very nature of calculated diabolism, well orchestrated mischief, and financial misappropriation.
Ghanaians were taken for a ride by devious politicians intent on keenly dividing the nation into pre-historic tribes and clans for their own parochial gains. For example the NDC had never failed to prove that such is the mantle that cloaks it. But then again, knowing that one's opponent is of extreme diabolism, ineptitude, criminality, fraudulence, gargantuan corruption, makes it easier to take the necessary measures to avert their sinister machinations.......," Page 72 [59 Dark Hours: A #Free Speech Campaign].
In effect, my big mouth landed me into trouble. But then under the circumstances, I wished my mouth was bigger so that my voice would resonate further into the darkness of NDC's hibernating conscience that they may wake up to the unforgiveable atrocities meted out to innocent citizens and foreign guests, alike, in this country of ours rich in blessings, glory, natural resources and human power.
It was sacrilegious that we had a John Agyekum Kufuor government in power that had built robust institutions to ameliorate our daily survival only for another of NDC branded incompetence to snatch power in 2009 and destroy them.
The legacies became shy shadows of mere silhouettes that were fattened cosmetically to seem to be alive, much like dressing a dead body to appear sleeping. Alas, the ability to breathe life into the lifeless institutions was what the NDC did not possess, hence His Excellency Dr. Bawumia's word ''Incompetent''......Page 138 [59 Dark Hours: A #Free Speech Campaign].
It is not an assumption to state that in the business of critiquing the government, especially an egregious one as the John Mahama-led NDC's, in addition to a hippo mouth, one would need a spiritual megaphone to raise the dead conscience of the officials. That did not work, but it did have an enchanting result of cementing the will of the people to effect change....." Page 139 [59 Dark Hours: A #Free Speech Campaign].
These are some excerpts from the irresistibly compelling new book 59 Dark Hours: A #Free Speech Campaign.
It was written by writer and Journalist, Fadi Samir Dabbousi, who chronicles political events during the struggle of the ruling New Patriotic Party (NPP) for power in 2016.
At the official launch of the book earlier this week, which took place at the British Council in Accra, the author gave the audience every reason to be firmly gripped to freedom of expression without any oppression.
The event, which was chaired by the Executive Director of Danquah Institute Dr. Kingsley Nyarko brought together other top guns of the NPP as well as some party office aspirants.
The office of the president was represented by Lord Commey, while Hassan Tampuli of the NPA, Lawyer Kow Essuman, Hopeson Adorye among others were also there to support their brother and friend.
According to Fadi, the book is a dedication to all freedom fighters around the world who have sought to achieve their goals, peacefully, with the tip of their pen.
The Author Fadi also recounts his ordeal at the BNI's Hell Chamber when he was picked up by the state security apparatus in the heat of the political campaign season for writing damning articles online that sought to make the then President John Mahama and his National Democratic Congress (NDC) party unpopular.
He says it is also a condemnation of all attempts by political despots to cull free speech to suppress the inveterate yearning of the human being for humane governance.
"Not only is this a dedication to journalists, writers, audaciously loquacious television anchors and radio presenters, it is also a special one for the many innocent mothers who were slain with babies on their arms because they sought justice against the oppression of powerful men.
59 Dark Hours: A #Free Speech Campaign is a moment of silence for the children that died because free speech and advocates were silenced with bullets or nooses, and could not fight for their rights.