Kwasi Obeng-Fosu, An Impeccable Choice For The Greater Accra Regional Youth Organizer Position!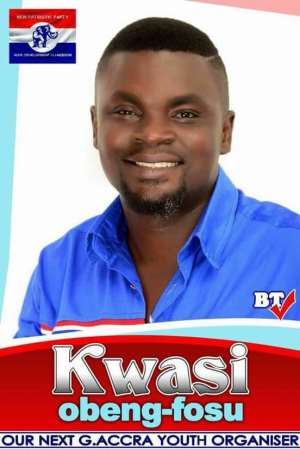 The blood and toil of our forefathers paid the ultimate price for the NPP to be where it is today; this was done for the survival of our party. That charge, is for us to keep! It is our duty to also preserve the party for future generations, just like it was preserved for us.
The onus therefore, is on every loyal patriot to concern him or herself with matters of who leads our party at every level, anywhere in Ghana. For in our part of the world, we have seen wolves in white scarlet, pretending to be sheep, for this, we have to be armed to the teeth.
In building an active, resilient, dedicated and loyal youth front for our dear NPP, we require leaders who are easily accessible, leaders who will open their doors to party men and women without asking for introductory notes! For those in the Greater Accra Region, in Baba Taufic, an aspiring Greater Accra Regional Youth Organizer, we find these qualities in excess!
Kwasi Obeng-Fosu, has a rich "servant-political" profile to the extent, that none of his contenders comes close. Just to give you a tip of the iceberg, He started as a Polling Station Youth Organizer for ST. FRANCIS 'A' polling station (Ashalley Botwe- a stronghold of the NDC) His contribution made the NPP to win both A and B for the first time under Hon. Frances Essiam.
He contested, won and became the current Adentan Constituency Youth Organizer. During his tenure as the Constituency Youth Organizer, the NPP won the Presidential election for the first time and recaptured the parliamentary seat in Adentan. He was subsequently invited to become a member of the National Youth Wing during the 2012 elections after t Hon. Anthony Kabo resigned to contest for MP. BT was put in charge of MEDIA and I.T for the youth wing under the leadership of Hon. Emmanuel Attafuah.
With him at the helm of affairs, hard work's tune will not become so faint, enthusiasm towards party work will not lose its taste and our minds will be disabused of the misgiving, that leaders are well nurtured at a particular level and age. He's been there for the youth when no one else was. He sacrificed what he did not even have! He will always be there for the youth. This is the Time to reward loyalty and selfless commitment to hard work. Kwasi Obeng-Fosu is the man!