Carnegie Corporation Commended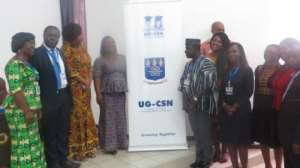 Professor Yaa Ntiamoa-Baidu, Project Director, Carnegie 'Next Generation of Academics in Africa' project at the University of Ghana (UG), has lauded Carnegie Corporation of New York for supporting the University's faculty development.
"Since 2010, the Corporation's fund has supported 86 Master of Philosophy (MPhil) candidates and over 100 PhD candidates," Prof Ntiamoa-Baidu stated at the launch and maiden conference of the University of Ghana - Carnegie Scholars Network (UG-CSN) in Accra.
She said in addition, the Corporation's fund had supported several faculties for them to participate in international conferences in order to enable them disseminate their research findings.
She recounted that in 2010, the UG embarked on a journey of becoming a world class research intensive University "This world class idea we used to make fun of it, because we thought we will never get there; and this is because everybody was thinking of about the challenges that UG was facing at that time," she said.
Prof Ntiamoa-Baidu enumerated some of the challenges that were then saddling the University at that time such as the huge numbers of undergraduate students' population, the fact that lecturers were completely loaded with teaching and therefore, had very little time for research.
Others were the low faculty to students' ratio, the aging faculty and a large number of staff well over 50 years and mentioned the low numbers of academic faculty, who had PhDs or other terminal degrees.
"So we all felt this is a huge challenge, we are never going to reach what we aspire to become. But we were not deterred, we begun to put in place several capacity building initiatives, Prof Ntiamoa-Baidu said.
She said in spite of the numerous challenges, they started to pursue an aggressive faculty development agenda with a focused on PhD training and enhancing delivery of quality research.
"So we said all faculties that do not have PhDs but are interested in getting PhDs, we will support you to get the PhD," she said.
Prof Ntiamoa-Baidu, who was UG's first Pro-Vice Chancellor in-charge of Research, Innovation and Developments, said: "The UG had many partners that worked with us, but I think one particular partner deserves special mentioning, and that is the Carnegie Corporation of New York."
She said following the implementation of the Carnegie 'Next Generation of Academics in Africa' project at UG, there had been a lot of results.
"We've made significant strides on several fronts. Faculty strength has increased appreciably. Proportion of faculty with PhDs has increased from under 50 per cent when we started to over 80 per cent now," she said.
Adding that the number of faculty aged 40 and below when they began the project was about 20 per cent, but now it is was over 30 per cent and faculty research had also increased significantly.
"We've done well. We've done a lot in the few years, but I believe the university still has a long way to go," she said.
"We need to continue striving for research intensive status," she noted.
Prof Ntiamoa-Baidu said: "We need to be able to generate more quality research, more relevant research that addresses the development agenda.
"But to me, what is so important is the fact that we have created a cohorts of young faculty with the desire to remain in academia and to excel in research productivity."
She said in UG, they now have a cohort of young faculty, which according to her constitute a new brand of the next generation of academics.
"My dream and my hope is that the UG-CSN that you have formed, you build on what has been achieved," Prof Ntiamoa-Baidu said.
"And we will grow and build the emerging the academics into a new generation with new vision, new research innovation and plenty of resourcefulness that will take UG to even greater heights."
Prof Abena Oduro, Director, Centre for Social Policy Studies, UG, who delivered the keynote address, urged universities to generate relevant and quality research, which would address the nation's socio-economic development.
Dr Naa Dodua Dodoo of the Regional Institute for Population Studies, UG, lauded Prof Ntiamoa-Baidu, for the critical roles she played towards the establishment of the UG-CSN.
Dr Doris Akyere Boateng, Conference Chair, Department of Social Work, UG, said the conference, which would be an annual event, sought to explore and advance the relevant nexus between research, quality and practice was a step in the right direction.
GNA
By Iddi Yire, GNA