Triumphant Arrival Bereft Of Fanfare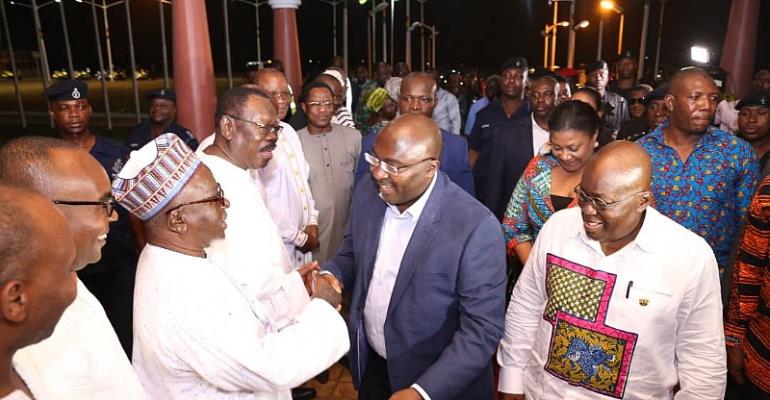 It was a triumphant arrival bereft of the cacophony such events evoke in the country more so when we were treated to a cocktail of lies and propaganda by NDC elements who had been empanelled to dish out such mendacious stuff about the Vice President's absence.
The array of government officials at the head of which was the President himself added to the colour of the arrival of the Vice President. That is a summary of the arrival of the Vice President Dr. Mahamudu Bawumia last Thursday evening at the Kotoka International Airport.
The decision by the authorities to make the arrival modest yet spectacular was a good one although many had brought out their white fabrics for the arrival. For a man whose trip abroad triggered malicious undertones by political elements in our polarized system, the arrival could have created needless stress were it to be otherwise.
The Vice President who has since resumed work was not made to do some jumping exercise for the cameras but rather went into the embrace of the President his boss as others took turns to show love to their compatriot.
President Akufo-Addo and his partner, the First Lady, defied protocol and went to the airport – an unusual show of love which has been described as an evidence of the excellent working relationship existing between the two.
Time was it when a president and the vice president were at loggerheads. It was even reported that the former exacted some blows on the latter during a cabinet meeting.
The current dispensation is a decent one in which such uncouth occurrences cannot happen. The arrival of Dr. Bawumia to the country should offer great lessons to political killjoys who sought to profit from the absence of the Second Gentleman of the Republic.
We wonder what they would now report on; the Vice President having hit the ground running already. Newspaper editors who allowed their pages to become doctors' diagnosis forms should be ashamed of themselves for stooping so low.
They would have rather he did not return. Of what value would that have brought to their political agenda? It is time we changed the terms of reference of opposition politics. Keeping the government on its toes and engaging in activities that would give your side of the political divide leverage, should not entail lies and wishing others dead.
Anything outside decent politics and inching towards the kind of machinations the NDC engaged in when Dr. Bawumia was away should be avoided. As Christians and Muslims belonging to great Abrahamic faiths, Ghanaians have a duty to be decent in the manner they do politics. Avoiding the kind of filthy encomiums they added to the politics they did with the Vice President's absence from the country was, to state the least, most insulting.
We welcome the Vice President back. We want him to take a lot of rest at the end of each working day.