Govt is moving purposefully to develop Ghana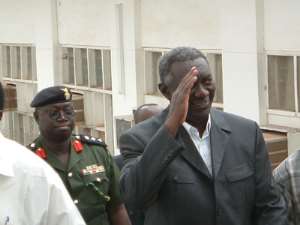 Accra, July 28, GNA - Government is moving purposefully to put Ghana's economy on a sound footing, President John Agyekum Kufuor said in Accra on Thursday.
"Our country is moving ahead towards development and this should be acknowledged by Ghanaians as the reason why the world has paid attention to us a small country and our economy that is not well-known but invited to two consecutive G-8 meetings in 2004 and 2005".
"Most countries with very large sizes and economies were not invited. What is Ghana doing right?" He asked at the first quarterly meeting with the Fourth Council of State of the Fourth Republic at the Castle, Osu.
The deliberations between the President and the Council were held behind closed doors.
President Kufuor called on Ghanaians to appreciate the efforts by the Government to ensure that Ghana remained the beacon of peace and stability within the West African Sub-Region, adding; "we shall keep it up and improve upon it".
He said: "As a nation that is coming out of many difficulties and problems, we know it will take some time to get out of the woods. Some people should be careful not to think they are the only people who will make things difficult for other people".
To the Council, President Kufuor said: "I will encourage you to continue to advise the President. Your good advice will be put to good use for the benefit of Ghana and Ghanaians". Professor Daniel Adzei-Bekoe, Chairman of the Council, commended the Government for the recent strides that had improved the international standing of Ghana.
"I refer in particular to your participation in the African Union (AU) preparatory meeting for the G-8 Summit; your invitation to the G-8 Summit in Gleneagles, Scotland and the total cancellation of Ghana's debts," he said.
Professor Adzei-Bekoe the decision of G-8 would lead to further stabilisation of the economy through the policies and programmes embarked upon by the Government when the country opted for the Highly Indebted Poor Countries Initiative.
He appealed to the Government to take comments and criticisms from colleagues in good faith when Ghana was reviewed at the next African Peer Review Forum scheduled for Accra, next month.
"As Ghana makes these positive strides, we are sure your Government will do all it can to share whatever growth we achieve in order to reduce poverty and inspire confidence in Ghanaians about the future prosperity of our country, " he said. 28 July 05