Police Pick Up One Suspect In Connection With The Shooting Of Two Policemen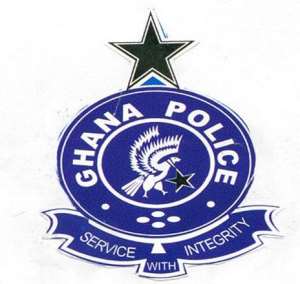 THE POLICE in the Ashanti Region has arrested one person in connection with the shooting and killing of two police officers at Drobonso in the Sekyere Afram Plains District Thursday dawn.
Ashanti Regional Crime Officer, ACP Peter Baba Atiniak, who confirmed the arrest, said the unnamed man was in possession of a pump action gun and live cartridges at the time of his arrest at Nsuta in the Sekyere Central District of the Ashanti Region.
The suspect is expected to be interrogated to give more leads to the police as investigations into the incident get underway to unmask all the bandits.
Inspector Adolph Mutse and Constable Ashinyo were killed after unknown gunmen opened fire on them on their return from duty at Drobonso Tent City station to Kumawu in a police vehicle registered GP 2346.
A third officer, G/Constable Enoch Okyere, who survived the attack, was injured in the process and was admitted at a hospital for medical treatment.
The fatal shooting came shortly after an earlier one on members of 'Operation Cow Leg' – a taskforce charged to check the menace caused by Fulani herdsmen – at Asante Akyem Agogo, which left three military officers and one cop injured.
Meanwhile, the Ashanti Regional Security Council (REGSEC) has deployed a combined team of about 200 police and military officers to augment the efforts at stopping the menace at Agogo, with a call on them not to allow the herdsmen to take over the Agogo land that serves as the food basket of the country.
Addressing the officers, the Konongo Divisional Police Commander, Superintendent Bossman Ohene-Boadi, asked the deployed security personnel to defend themselves against any aggression from the nomadic herdsmen.
"I believe in safety first. If you see anybody holding arms and wants to attack, please don't waste time. Nobody should die in the bush; no risk taking," he charged the officers, while psyching them up.
Supt Ohene-Boadi said the nomadic herdsmen are not people to joke with as they have the propensity to take the lives of opponents in circumstances like the one at Agogo, and intimated that the herdsmen are not better than the country's security officers in terms of shooting.