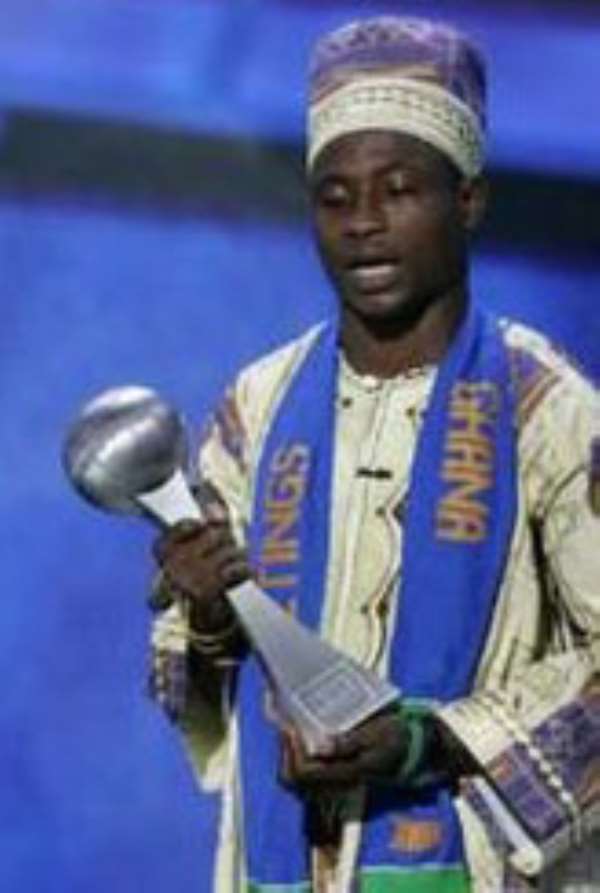 Emmanuel Ofosu Yeboah, a 28-year old man who was once a humble shoe-shine boy on the streets of Ghana, was scheduled to return to his homeland quietly unannounced yet as an international hero. Osagyefuo Amoatia Ofori Panin, the Okyenhene, describes him as "a demonstration of the awesome power of the human spirit and a hope and inspiration to us all."
If ever there was a role model, this is one. Born disabled into a poverty-stricken home at Akyem Abuakwa, Yeboah was immediately faced with overwhelming odds of survival. But he has done more than just survive; he has shown the world that a disability is not an inability.
Thursday, Yeboah had lunch at the White House, Washington DC, where he met President Bush of the United States who recognised his outstanding achievements for a physically challenged person in a developing country. Ironically, this Ghanaian triathlete, with a movie hit in the US, has not yet been officially entertained or recognised by his home country.
Friday, in a speech on medical care and social security at Atlanta, Georgia, President George Bush told his audience: "Yesterday in the Oval Office I had an extraordinary experience. A young man from Ghana, who was born lame, was basically adopted by a faith-based programme here in America, and he got a [sic] prosthesis. He's now a bicycler and a triathlete. He set an example for others in his country that just because you're lame doesn't mean you're a second-class citizen." This statement is captured in a White House press release.
Yeboah has been hosted by popular talk show hostess, Oprah Winfrey, and has received numerous awards for his achievements. These include the 2005 Arthur Ashe Courage Award, the 2001 Casey Martin Award, presented by Nike, and several Audience Awards at film festivals in the United States. This surely begs the question, why has Yeboah been overlooked in Ghana, while obtaining international recognition? He could serve as an inspiration for so many who are made to believe that their disability limits them to begging on the streets.
Born with a short femur and knee dislocation in his right leg, he could neither walk, run, nor stand alongside other children.
In a society that arguably shuns the disabled, Yeboah says he was seen as a curse. His father left him at birth and his mother was advised to leave him to die, he recalls. But he refused to accept a life of resignation. His mother's dying words were for him to remain confident in himself and to never beg. Determined to change the perception of the disabled, which comprises roughly 10 percent of the Ghanaian population, as a boy Yeboah dreamed of riding a bicycle across Ghana - a distance of nearly 400 miles. Yet he lacked one thing: a bike. Yeboah wrote a letter to Challenged Athletes Foundation (CAF), a US charity designed to assist the disabled in pursuing athletic achievements. CAF welcomed the opportunity to help a young boy who most would expect to ask for food or money. Instead, a bicycle was what he needed to sustain his life. With support from CAF, he completed the 610-kilometer ride in September 2001, wearing a shirt that read "The Pozo" – drawing inference with another disabled Ghanaian who rose to the top of his career – musician Pozo Hayes.
Yeboah even went so far as to approach royalty. Although, historically by custom, the King's court would have entertained no disabled person, he was determined to gain the King's support.
In an exclusive interview with The Statesman last Thursday, as Yeboah dined with President Bush, Osagyefuo had trouble expressing why he reached out to Yeboah on the day he approached the royal gates of the Ofori Panin Fie. "I was just moved and his idea inspired me. He had a spirited character that I had never seen for his condition."
The Okyenhene admitted that, at the time, he couldn't conceive of the success that would come of this boy. But years later, upon meeting him once again, he was overwhelmed to see this young disabled boy as a young man, standing on his own two feet.
After the success of his bicycle trek across Ghana, CAF flew Yeboah to the United States to compete in a triathlon competition. During this same trip, a prominent hospital in San Diego, California, donated the surgery and equipment necessary to fit Yeboah with a prosthetic limb. Though he began as a cyclist, the surgery allowed Yeboah to walk, run, swim, and play football - all sports in which he now competes.
In November 2003, he was once again among 100 of the world's top challenged athletes who raised more than $1 million for the CAF at the San Diego, California, Triathlon Challenge. The tenth annual event included 450 celebrities, professional athletes, and participants who amazed and inspired the spectators. He has become a constant feature in the annual event. On his second meeting with Osagyefuo Amoatia Ofori Panin, Yeboah stood tall in trousers and Nike trainers. He had come to say thank you. Osagyefuo knows that Yeboah's story is one which needs to be told, especially in Africa. It's a story of survival and determination.
"Emmanuel's voice needs to be told to those who are crawling and those who are begging. There are others like Emmanuel – we just have to discover them," His Majesty said.
In a country where the disabled often have a tendency to give in to their plight, Yeboah is an inspiration. The society does not offer any meaningful support to its disabled citizens. The Disability Bill is still struggling to receive parliamentary reading. But, with over 2 million physically challenged people in Ghana, it cannot be ignored.
They are currently shunned by society and cursed by their families, but this needs to change.
"We all have to serve humanity in some capacity. We're here for a purpose," said the Okyenhene.
This was echoed thousands of miles away in Atlanta. According to the White House press release, Mr Bush told his Senior Security audience about another person he met, when Yeboah came to the White House last Thursday: "As well, a fellow came to the Oval Office who had as a dream of providing wheelchairs for those who are disabled all around the world. He wants to lift their spirits by giving them a chance to be mobile, other than - so that they're not stuck on the street corners of their cities. He realised wheelchairs were too expensive. So he designed one that will be available at a reasonable price all throughout the world. I said, why are you doing it? He said, I heard a call. See, thousands of people make up the great strength of the country. And the strength of this country is the hearts and souls of our citizens. If you want to serve, volunteer. Make somebody's life better. Surround somebody who hurts with love, and you'll be doing your country a great service."
Here in Ghana, it is not only the society which is lacking in support. Positive legislation is not yet in place to promote progress; to encourage the disabled to become full-fledged participants in society. The king of Akyem Abuakwa believes that a step forward would be to address the Disability Bill in Parliament. "Countries move forward with ideas, not with physical strength. We need all physically challenged people to be heard," he said. "We need to do more. It's a human waste to see a disabled person and do nothing. We cannot underestimate those people. A whole lot of intellectual power has been wasted." Yeboah is determined to rid the Ghanaian society of the stigma which exists towards the disabled community. He wants to empower other disabled youth with the opportunity and advantages open to others. In 2001, Yeboah received the Casey Martin Award by Nike, in recognition of his efforts to overcome physical and societal challenges. Nike granted $25,000 to Yeboah, of which he has chosen to donate $5,000 to CAF, and the remaining $20,000 to disability assistance programmes in Ghana. In 2004 Yeboah established a fund to assist 15 disabled Ghanaian youth with school fees over a five-year period. In addition, ground is being broken in Kyebi, where Yeboah plans to establish a center for the disabled, so that all people - disabled and able - can participate in sports.
The production of a feature-length documentary film, Emmanuel's Gift, due for US release in October, has granted Yeboah recognition and praise across the other side of the Atlantic Ocean. Produced by Lookalike Productions in the US, Lisa Lax and Nancy Stern, the cofounders and producers, were immediately inspired by Yeboah's life and decided it was imperative to pass his story on to the public.
"He doesn't know the meaning of the word 'no,'" said Ms Lax, "he just perseveres."
The film has already had overwhelming success. Audience response has been incredibly positive. "From this film, people will be inspired to help and absorb his attitude. It causes everyone to think about their own lives, and how they could be a better people," said Ms. Lax. The film has received numerous Audience Awards and Yeboah has personally been recognised at various film festivals in the US for his humanitarian achievement. Most recently, Yeboah was the recipient of the 2005 Arthur Ashe Courage Award, presented by Oprah Winfrey at the ESPY Awards, sponsored by ESPN. He received this prestigious award along with Jim MacLaren, an athlete who has persevered through two near-fatal accidents to rise as a prominent motivational speaker.
It remains to be seen whether his return home will be positively used by his homeland to give hope to several others here in Ghana who continue to stir through the tunnel of crippling despair due to little or nothing more than their surmountable physical challenges. He is coming home to a country where he sees hope - a place where humanity can be realised. It just takes a shoe-shine and unwavering determination.