2018 Paragliding Festival Launched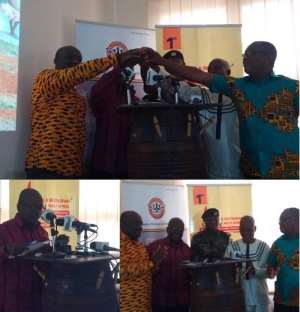 The Ghana Tourism Authority (GTA) on Thursday launched the 2018 Kwahu Paragliding Festival, on the theme: 'You too can fly', which is one of the flagship events of the Ministry of Tourism, Culture and Creative Arts.
The 13th edition of the event is scheduled to take place at the Odwianuma Mountains from March 30 to April 2, 2018, at a flying fee of GHC250.00.
Mr Akwesi Agyemang, Chief Executive Office GTA said tourism continues to be one of the key sectors of the economy and it is the mandate of the Authority to stabilize the industry and take proper stock of all tourism infrastructure and monument.
He said the festival, expected to attract thousands of people from far and near, would apart from the paragliding, include funfairs and entertainment among others.
He said this year's event promises to be an extraordinary event because of the level of improvement that had taken place at the site.
Mr Agyemang noted that, the mandate of the authority is to ensure that tourist facilities are upgraded to attract people to patronize it at all times, adding that, they have engaged various stakeholders to ensure that Kwahu 2018 would be remembered for a long time.
'We want to expand the take-off point, because in the past only one pilot could fly at a time. But hopefully this year, we would be flying four pilots at a time. We are also working with the pilots to ensure that the fly time is managed so that a lot of people can fly this year,' he said.
The CEO said new pavilions had been built at the site to comfortably accommodate the tourist in a relaxed atmosphere, whilst they wait their turn to fly.
He said: 'We are also bringing in top ten pilots from around the world to ensure the success of the events, whilst efforts are being made to train 12 local pilots who would partake in the event in some few years to come'.
Mr Agyemang said the agency is working in collaboration with the Kwahu south assembly, the Ministry of Roads, the Kwahu Tourism Initiative, Parks and Gardens among others, adding that, the ambulance service and medical care would be provided at the site in case of any eventualities.
He said the agency is embarking on other initiatives to boost the industry, such as the training of national, community and specific guards and the upgrading of the Kintampo Waterfalls, among others.
He called on stakeholders to come on board to support the event, and urged Ghanaians to take advantage of the event, 'to see Ghana, feel Ghana, wear Ghana and eat Ghana'.