T'di Port ready for imported textiles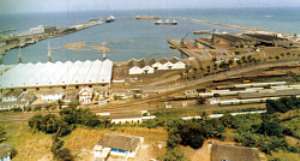 Takoradi July 22, -GNA -Mr Kofi Osei Ameyaw, a Deputy Minister of Trade and Industry, on Thursday said the policy guidelines on the importation of African Textiles Prints, which came into force in July 1 this year are to prevent unfair competition and bad trade practices against the local textiles industry. He was speaking during a working visit to the Takoradi Port to inspect examination bay and new warehousing facilities for imported African Textiles Print. Mr. Ameyaw said as a result of bad trade practices like under-invoicing and smuggling of textiles print, the country is losing a lot of revenue. He said it is to stop this practice that the Takoradi Port has been the only entry point for the importation of African Textiles Print. Mr Ameyaw said traders bring in textiles prints through inland borders but do not declare the correct quantity to evade duties and sell them at a cheaper price.
He said this make it difficult for local industries to compete favourably with foreign industries and to expand.
Mr Ameyaw said local textiles industries meet only 50 percent of local demand and importation of textiles is necessary but must be regularised. He said according to the guidelines, "Imported African Prints shall be regarded as "High Risk Goods" and shall be subjected to 100 percent physical examination".
Mr. Ameyaw said the objective for physical examination is to ensure correct declaration of textiles and payment of duties and to curb importation of cheap textiles.
He said the selection of the Takoradi Port as the only entry point for imported African Textiles Print implies that their over-land importation is banned.
Mr. Ameyaw said anybody who imports African Textiles through any port or land route other than the Takoradi Harbour commits an offence and shall be prosecuted and have such imports also confiscated". He said, "Similarly, a person who fails to comply with any of the directives of the policy guidelines or does not co-operate with officers carrying out any specific assignments shall be prosecuted."
Mr. Ameyaw assured importers that facilities at the Takoradi Port are well organised and they would have no difficulty in clearing their goods.
He said construction of three new warehouses at the Port would be completed soon so the Port would be ready to receive imported African Textiles Print by the end of this month.
Mr. Ameyaw said the Ghana Standards Board (GSB) is also ready to inspect and certify goods at the Port. Mr. Kofi Nyame-Baafi, Deputy Chief Commercial Officer of the Ministry of Trade and Industry, told the Ghana News Agency (GNA) that 90 percent of imported African Textiles Prints that come into country are manufactured in China.
He said China textiles are low priced because of the low exchange rate of that country's currency. Mr. Nyame-Baafi said these are brought into the country through the Eastern border points.
He said Thailand and India are other sources of the country's imported African Textiles Prints. Mr Nyame-Baafi said textiles from Holland and the United Kingdom are mainly super wax prints.
Mr Cyril Nettey, Director of Takoradi Port conducted the Deputy Minister round the facilities.