Remembering Daniel Augustus Lartey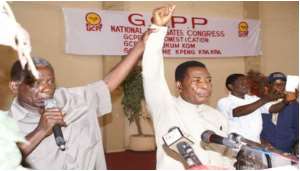 28TH December marks 8 years departure of late Dan Lartey popularly known as Domestication.
A former publisher and labour unionist, Mr Lartey's name became a household one following his 2004 mantra of 'domestication', the political philosophy of growing Ghana from Ghana, instead of depending on foreign aid and investments.
His political career started in 1969 when he contested the Gomoa East Constituency seat on the ticket of the National Alliance of Liberals (NAL) in the parliamentary election of that year.
In 1972, he was appointed a special adviser to General Ignatius Kutu Acheampong's National Redemption Council (NRC) government and in 1978 he represented Gomoa-Ewutu-Effutu at the Constituent Assembly to write the Third Republican Constitution.
He was a founder member of the People's National Party (PNP) in 1979 and aspiring presidential candidate of the National Independence Party (NIP) in 1992, losing to Mr Kwabena Darko.
With signs of old age and its attendant ill health, Mr Lartey returned to Ghana on November 29, 2009 after a six-month visit to the United States of America (USA) where he had received medical treatment, but he passed away on Monday, December 28, 2009.
Mr Lartey, who was the 2000 and 2004 presidential candidate of the GCPP, was born on August 1, 1926 at Winneba in the Central Region.
After his elementary education in Ghana, he proceeded to the UK, where he obtained a diploma at the London Chamber of Commerce and Sloan's Shorthand Certificate of Proficiency. He also obtained a diploma in Commerce and Industry from the London School of Economics in 1956.
Our dear father may your soul rest in perfect peace.