Goldstar Air Receives International Award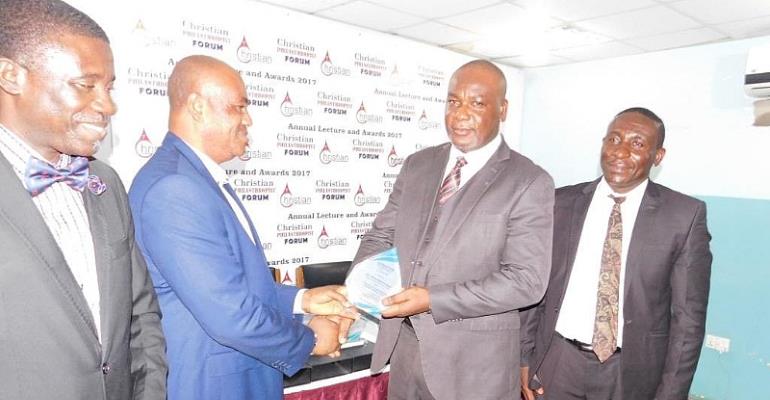 Goldstar Air, a wholly owned Ghanaian airline, on Friday, 15th December, 2017 received an international Award at the international Press Centre in Accra by the Christian Philanthropist Forum.
The Award comes on the Heels of an award in which Goldstar Air received "The Most Promising Airline Company of the Year" at the Quality Excellence Awards held at the Golden Tulip Hotel in Accra. The Executive Chairman, Mr. Eric Bannerman received the prestigious award presented by Mr. Oscar Ugoh of Corporate Guardian Africa and thanked the event organizer, The Christian Philanthropist Forum, an international Faith-Based organization for its magnanimity. Mr. Bannerman also said the recognition has come at a Better moment, Adding that Goldstar Air will not rest on its Laurels But will strive for excellence with Tailor-made service suited to the Aviation and Tourism sectors.
The Communications Director, Mr. Theophilus Edzie said "As part of Goldstar Air strategic initiative to leverage its local and global exposure as well as presence to drive positive change in the country and Africa as a whole, the Airline will be flying to twelve destinations worldwide, namely: London, Dubai, Baltimore Washington International, Guangzhou, Providence International Airport, Lagos, Abidjan, Monrovia, Freetown, Conakry, Banjul and Dakar. Our intentions as Ghanaians is to build a state of the Art and Trend-Setting Aviation industry able to compete within the international market in terms of Safety, Quality, Reliability, Punctuality, Efficiency and Costs.
This will improve the Ghanaian economy through the provision of affordable and available international business and also improve the lives of Ghanaians through the provision of affordable and available international travel and provide Job opportunities and aviation related training to Ghanaians especially the youth."
Mr Theophilus Edzie also said, the Airline will be creating a minimum of five thousand direct and indirect jobs in Ghana. Some of the jobs which the youth will benefit from, are: Pilots, Ground Service Crew, Service person in maintenance, Cabin crew, Counter Agents, Travel Agents, Tour operators, Country Managers, Station Managers, Accountants, flight dispatchers, drivers, Marketing Personnel, Air Marshalls, Cargo Agents, Movies Producers, Catering Services, Music Producers, Hotel Accommodations, Fuel Suppliers, etc.
The Annual Lecture and Awards night with this year's Theme: "Imparting Society Positively Through Philanthropism" presented Six awards to Distinguished personalities/companies who are Changing Lives and Imparting the communities Positively.
According to Bishop Peter Kayode Falarungbon, The Convener, the Forum is poised to identify more of these Noble Personalities/companies, with the aim of Encouraging them to continue their Good deeds in their Localities, because We are the Light of the world and we must rise and shine through our Philanthropic Activities in our Time, in order to leave a Good Legacy for the Future Generations to Benefit.
Other Recipients on the Night included; Madam Vanessa Addo–Managing Director, Vaniado Ghana, Madam Catherine Nelson– General Manager, Bajfreight & Logistics Tema, Mr. Bode Oseni– Managing Director, RegencyNem Insurance Ghana Limited, Rev. Dr. Ebenezer Alabi– Founder, Mission of Hope Accra/Business Consultant and Madam Genet W. Michael– Country Manager, Ethiopian Airlines.
Some previous Awardees were; Mr. Nathaniel Kwabena Adisi (Bola Ray)– CEO EIB Networks, Mr Lolu Akindele– Managing Director. JA Plant Pool Accra/Exective Director, Omni bank Ghana, Mr. Ekow Bentil – Former Managing Director, Royal bank Ghana, Madam Charlotte Baidoo – Managing Director, Women's World Banking Ghana and Mr. Johnson Olakumi – UBA Bank Ghana.
Goldstar Air wishes everyone a Merry Christmas and Prosperous New Year for your Candid love you have shown towards the Airline and also wish to serve you Next Year with our Ghanaian hospitality.