NPP Government: Eleven Months On, So Far So Good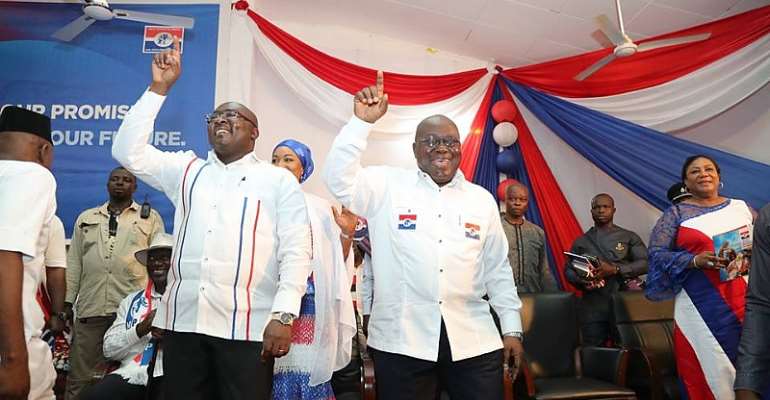 Exactly a year ago, the citizenry was called upon to decide the future of the country for a four year interval. As a result of the determination of the people to ensure the progress of the country, and position it for a massive socioeconomic turnaround, they voted massively for the New Patriotic Party to form the government of the country as well as the majority in parliament.
Upon assumption of office, the government, headed by the visionary and hardworking president, Nana Addo Dankwa Akufo-Addo has initiated policies, programs and interventions that are leading to the transformation of the economy. Eleven months into his administration, the country is showing signs of progress in most sectors of the economy. With the implementation of the free senior high school program, most students, especially those from poor families, who hitherto would not have progressed to the senior high school, have the opportunity now to receive secondary education to make them better and more functional in society.
Again, the planting for food and jobs program rolled out by the Ministry of Food and Agriculture is making most subsistence farmers expand their farms, increase their production, increase their labour requirements, thereby creating jobs, and ensuring the achievement of both food sufficiency and security in the country.
Furthermore, the paperless intervention introduced at our ports has helped the State in curbing corruption, and also increasing our revenue envelope to give the government the fiscal space to embark upon massive infrastructural projects. Moreover, the implementation of the digital property addressing system that commences the digital revolution in the country will provide the country the opportunity to keep track of our property, have an effective addressing system, and increase our revenue generation, especially the opportunity to bank the informal sector of the country.
These and a lot more policy interventions being introduced by the country show that the country is on a steady, positive and progressive path of socioeconomic emancipation and transformation. The macroeconomic outlook of the economy is solid, and we are now experiencing regular and uninterrupted power supply as compared to the about four years of erratic power supply under the prior Mahama led administration.
Clearly, the government is on course, the president is very focused and poised in delivering the social contract between the citizenry and the party. So far so good, and we would like to impress upon the government to hasten her steps in creating more jobs for the masses, especially the youth in order for them to meaningfully contribute to the development of the country.
Signed
Dr. Kingsley Nyarko
(Executive Director)