NCCE Dialogue On Corruption Held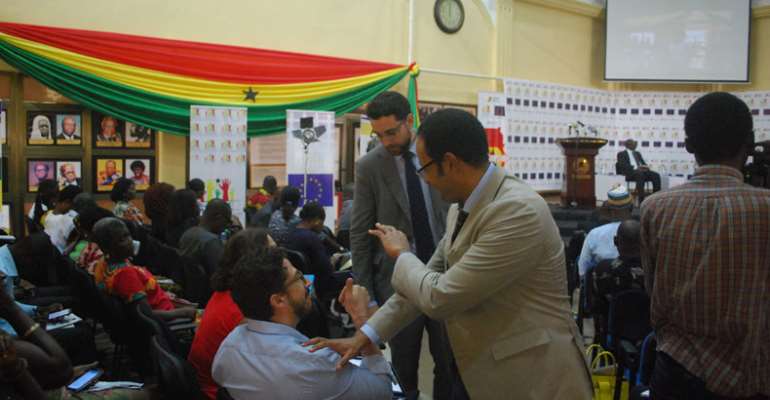 The National Commission on Civic Education (NCCE) has held its maiden dialogue on corruption with the Commission, panelists and other discussants calling for collective approach to fighting the menace.
According to the NCCE Chairman, Josephine Nkrumah, corruption is destructive at all facets of our national lives; undermining democratic growth and good governance hence it behooves us as a people to move beyond the rhetoric of beautiful speeches decrying the scourge of corruption.
"I hope that this dialogue would be one such move where we galvanize efforts to fight all forms of corruption. While the Commission would not join the bandwagon of pledging that fight, I hope I can count on our staff as we hold hands with every Ghanaian to embark on this journey to reduce corruption to the barest minimum.
"For the Commission, we believe that the efforts of each and every Ghanaian with the force of a deliberate, sustained and systematic approach can reduce this sickness in our society," she stressed.
The event which was held at the Ghana Academy of Arts and Sciences (GAAS) auditorium on Tuesday received very huge attendance and participation.
The panelists comprised Dr. Mercy Akrofi Ansah, Senior Research Fellow, Institute of African Studies, University of Ghana and Dr. Kwadwo Asante also a Research Fellow at the Centre for Democratic Development (CDD)
The panelists in their respective discussions bemoaned the prevalence of corruption in the society at recent times.
While commending government for the Independent Prosecutor, they called for severer forms of punishment for corrupt officials.
"Why should a thief who has stolen receive heavy sentence while a public official walk around as if nothing has happened" a contributor screamed.
Tracing the background to corruption, they stated that several attempts were made in the past by succeeding governments to fight it.
They mentioned "Zero Tolerance for Corruption" under President JA Kufour as an example.
It is for this reason that Dr. Mercy Akrofi Ansah believes that the fight is going to be very challenging but there is the need to make a start by creating awareness among the people.
She cited the recent case of the setting ablaze of the Central Medical Store in Tema just to cover up a corrupt deal adding that it cost the country loss of lives, foreign currency and property.
"Until citizens know and understand the cost of corruption, we will be getting nowhere "she remarked
Dr Kwadwo Asante, among other factors, called for naming and shaming of corrupt officials at the workplace saying that approach will kill the menace before it turns cancerous.
He expressed worry that interferences from key state personalities such as politicians, Members of Parliament, Members of the Clergy and Chiefs and our cultural system impede the process of investigation and arrest of corrupt officials.