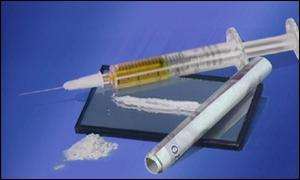 ...SNAILS, DIAPERS ALL PART OF PUSHERS' TRICKS A set of new tricks employed in the illicit trade in narcotics has been revealed at the on going INTERPOL Conference in Accra.
At a photo exhibition mounted by Ghana's Narcotics Control Board (NACOB), intelligence and police chiefs from across Africa were led into how snails, smocks, diapers, engine pistons, bags, gloves and fish had been used by drug pushers in the latest of schemes to outmaneuver crime experts.
The most stunning of the large array of concealment methods displayed was one reported by the British Customs and Excise in which 23 kilos of cocaine were uncovered at London's Heathrow Airport hidden in live snails from Ghana in November last year.
The gross weight of the haul was 374 kilos packed into 12 crates of live snails. A total of 420 cocaine packages were removed from the shells of the snails.
Another discovery was the concealment of herion in diapers, sanitary pads and belly bands worn by children and women. The concealment of packaged cannabis in smocks and sacks of gari was all identified by NACOB. Some of the traffickers further adopted the packaging of cocaine as packaged fish.
Hand gloves were at times also stuffed with cocaine, just as engine pistons, ice chests, footwear, sacks of rice and a mower motor.
There were also instances where herion was hidden in book covers or cocaine in traditional soap (alata samina) as part of efforts to outwit the security officers.
The exhibition also showed that the criminals were always exploring new methods to outwit the security officials in Ghana.
Colonel Isaac K. Akuoko, the executive secretary of NACOB, told the paper in an interview that the exhibition was to showcase to the security chiefs the activities of NACOB and its achievements.