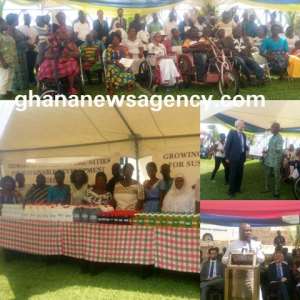 Some Persons with Disability (PWDs) have received training in economic ventures to improve their financial status in society as the world celebrates International Day of PWD (IDPWD) on December 3.
The selected PWDs were trained to acquire skills in the production of shoes, cosmetics and cleansing agents as part of the Growing Economic Opportunities for Sustainable Development (GEOP) project.
The GEOP project seeks to promote inclusive development and enhance economic opportunities with special emphasis on young people (school dropouts), women with limited economic opportunities and persons with disabilities.
Christian Aid, a non-governmental organisation and its partners, which include; Ellembele District Assembly, GRATIS Foundation, UCSOND and Ghanaian Institute of Welding, are implementing the project with 700,000 euros funding from the European Union (EU).
Mr Ernest Okyere, the Acting Country Manager of Christian Aid said the project, which started in the past 10months sought to reach 8,734 people with various interventions and to create at least 1,500 jobs in waged and self-employment businesses and to increase incomes by at least 40 percent by end of the project in 2019.
At a graduation ceremony to deploy the trainees into the marketplace, Mr Okyere said, the theme for the 2017 IDPWD was 'Transformation towards sustainable and resilient society for all' and that a resilient society for all meant that PWDs should have profitable ventures.
He added that the equitable venture should be able to enable the PWDs to have reasonable and predictable share of the value of their labour and production, enabling them to meet their basic needs.
He called on government to ensure that PWDs had equitable access to economic opportunities to enable them have resilient lives and urged families, friends and authorities to change perceptions and note that PWDs were not burdens but assets to society who need to be presented with same opportunities.
In an interview Mr Paolo Salvia, the Acting Ambassador of the EU Delegation in Ghana said creating jobs, giving competitive skills to people to enable them acquire better jobs and earn better salaries were the priority of Nana Addo Dankwa Akufo-Addo, the President of Ghana, and that EU believed in that vision.
Mr Salvia said the EU was passionate to invest in projects that could be sustained even after it had elapsed, hence funding the GEOP project proposed by the Christian Aid last year when it called for proposal on sustainable projects.
He indicated that Europe was committed to ensuring that countries in Africa were capable of creating enabling environment through job creation to reduce the tendency of Africans desiring to travel to Europe in search of greener pastures.
'Nobody wants to travel just for fun, but people travel because they do not see the possibility of getting decent jobs and salary. So it is important for us to support the initiative… to create jobs… to encourage more Ghanaians to work and stay here.'
Present at the graduation ceremony was Mr. Mohammed Adjei Sowah, the Metropolitan Chief Executive of Accra Metropolitan Assembly (AMA), who congratulated the trainees and pledged his support for the project to ensure that persons with disability were not left behind.
He said the AMA would be willing to support the standardisation of the economic activities of the PWDs.