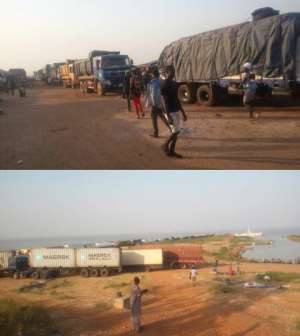 There is brisk economic activities going on around the shores of the Volta Lake at Yeji, capital of the Pru District of the Brong-Ahafo Region.
Fleet of vehicles, traders and travellers are stranded at the place following the closure of the Buipe and Yapei bridges in the northern part of the country barely a week ago.
With the bridges, which were closed down last week to pave way for some temporary rehabilitation works to be done, the lake transport remains an alternative route to be used by many drivers and traders.
Fish mongers and petty traders have taken advantage of the situation to sell sachet water, boiled maize, fried and fresh fishes, roasted yams, and all kinds of food.
But as their economic activities flourish, there remains a looming danger on the other hand as chop bar operators and other food vendors set fire close to large tankers carrying LPG gas trapped at the shores of the lake.
Heavy-duty articulated vehicles that cart foodstuffs and timber logs from Burkina Faso and the northern parts of Ghana to the south and other parts of the country as well as several saloon cars had queued, when the Ghana News Agency went to the scene.
This unpleasant situation, the traders said, were affecting their economic activities as they remain along the shores of the lake.
According to authorities of the Volta Transport Company, the problem keeps compounding daily, as the only pontoon (Akrade pontoon) could carry less than 10 vehicles which cross the lake thrice daily.
Mr Bright Josiah, the Manager of the Pontoon, told the GNA in an interview that proper arrangements were not put in place to contain the situation, because they were not properly informed before the bridges were closed down.
'Intense pressure has been mounted on the operations of the pontoon', he said, but added that request has been made and very soon another pontoon would be added to facilitate speedy lake transport.
Mr Josiah said Management of the Volta Lake Transport Company has dispatched some engineers to work on the 'Nana Besemuna' pontoon which has been grounded for some time now.
Meanwhile, Mr Stephen Jalula, the Pru District Chief Executive, has supplied the stranded travellers with several canopies for shelter.
GNA
By Dennis Peprah/Stanick Kpodo, GNA