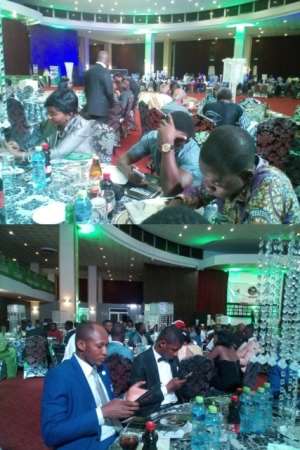 Mrs Freda Prempeh, Deputy Minister of Works and Housing, has said the Ministry would be re-submitting to cabinet the reviewed bill for the establishment of a real estate agency bill and later to Parliament for consideration.
She said the bill would help regulate real estate brokerage practice and practitioners, real estate transactions as well as prevent the use of real estate transactions for social vices.
The bill would also provide for the training and licensing of estate brokers and require estate brokers to provide bonds as guarantees to operators in the property market.
She said this at the weekend to mark the 10th anniversary of the Ghana Property Awards on the theme 'Exploring Data to Bond Bricks and Mortar Trading', organized by the Property Express in collaboration with the Ministry of Works and Housing.
The Deputy Minister said the theme underscores the point that a thorough understanding of data on customer behavior when it comes to face-to-face transactions is needed to effectively market real estate products in the 21st century.
She said transactions in the sector should not be at the level of conjecture and guess work but based on sound analysis from historical trends.
Mrs Prempeh said the country is undergoing a rapid transformation of it's human settlements but there has been a serious drawback due to the fact that construction costs are unnecessarily very high.
She said the Ministry was of the view that real estate industry professionals can do more in helping to achieve lower costs of construction through designs which use good alternative local materials.
'The vision of government for the housing sector is to use an appropriate mix of public policy and public private investments to deliver quality, affordable social housing and private solutions that meet the needs and financial capacity of the ordinary Ghanaian', she added.
She said the Ministry would work with identifiable groups and associations to facilitate the construction of homes for their members through the provision of the appropriate financing guarantees.
She reiterated government commitment to promote and develop the use of local building materials in the construction of buildings as well as facilitate the development of an active mortgage market to expand mortgage loans to Ghanaians.
Adom City Estate and Company Limited won the Best Residential Developers 2017 for the lower income category; CPL Developers Limited won the Best Residential Developers for the middle income category, while Mayfair Estate Limited emerged winner of the Best Residential Developer for the upper income category.
Broll Ghana Limited won the Best Property Management Company of the year; Berock Ventures Limited won the Best Commercial High Rise Developer, while Emerald Properties won the Best Development Marketing Company.
GNA
By Kodjo Adams, GNA