President Robert Mugabe faced the imminent collapse of his 37-year regime Sunday, with the once-loyal ZANU-PF party set to sack him as its leader and army generals piling pressure on him to resign.
Mugabe's hold on power was broken last week when the military took over after his wife Grace emerged as the leading candidate to succeed the 93-year-old president, who is the world's oldest head of state.
On Saturday tens of thousands of overjoyed protesters flooded the streets of Zimbabwe in peaceful celebrations marking the apparent end of his long and authoritarian rule.
Nine of the 10 regional branches of the ZANU-PF party have called for him to go.
"There's a central committee meeting (on Sunday) to endorse the resolutions reached by the provinces," a lawmaker for the party told AFP.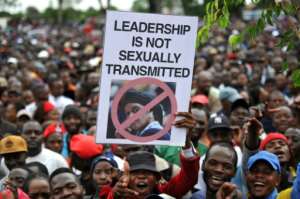 Grace Mugabe's bid to succeed her husband sparked the crisis
Mugabe remains in office but now faces overwhelming opposition from the generals, much of the Zimbabwean public and from his own party.
The influential ZANU-PF Youth League on Sunday reversed its previous devotion to Mugabe, saying that he must resign and Grace must be expelled from the party.
Later on Sunday, the army generals who led the takeover were due to hold further talks with the president.
The two sides first met on Thursday, smiling in photographs that attempted to present a dignified image of the tense process of negotiating Mugabe's departure.
Veterans of independence war -- also former key Mugabe allies -- added their voice in support of him resigning, demanding that he give in to army pressure and leave office on Sunday.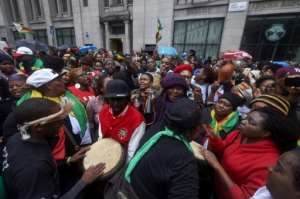 There were even anti-Mugabe protests in London
The marches came after a historic week in which the military seized power and put Mugabe under house arrest in response to his sacking of vice president Emmerson Mnangagwa, a perceived rival of Mugabe's powerful 52-year-old wife Grace.
In scenes of public euphoria not seen since Zimbabwe's independence in 1980, huge crowds marched and sang their way through Harare and other cities.
'Best day of my life'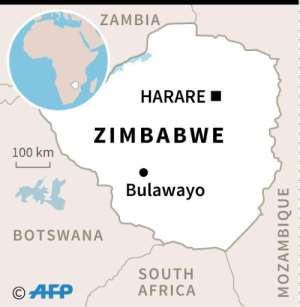 Factfile on Zimbabwe.
The demonstrations included citizens of all ages, jubilant that Mugabe appeared to be on his way out.
"This is the best day of my life. We are hoping for a new life after Mugabe," said 38-year-old Sam Sechete at the main rally in Highfield, a working-class suburb of Harare.
In central Harare, a group of young men tore down a green metal street sign bearing Robert Mugabe's name and smashed it repeatedly on the road.
Such open dissent would have been unthinkable just a week ago as protests were routinely crushed by security forces.
Major General Sibusiso Moyo, whose statement on state TV marked the completion of the take-over in the early hours of Wednesday, told reporters at the protests that the people of Zimbabwe are "disciplined, orderly and they are unified".
The majority of Zimbabweans have only known life under Mugabe's rule, which has been defined by violent suppression, economic collapse and international isolation.
"I went to university but here I am selling bananas to earn a living. If it wasn't for Mugabe, I would be doing something else," said one protester, street vendor Abel Kapodogo, 34.
Sources suggest Mugabe has been battling to negotiate a delay to his exit and to ensure future protection for him and his family.
He attended a graduation ceremony on Friday, in a show of defiance over the talks with General Constantino Chiwenga, who led the military power grab.