Ghana Security Agencies On High Alert At Various Borders!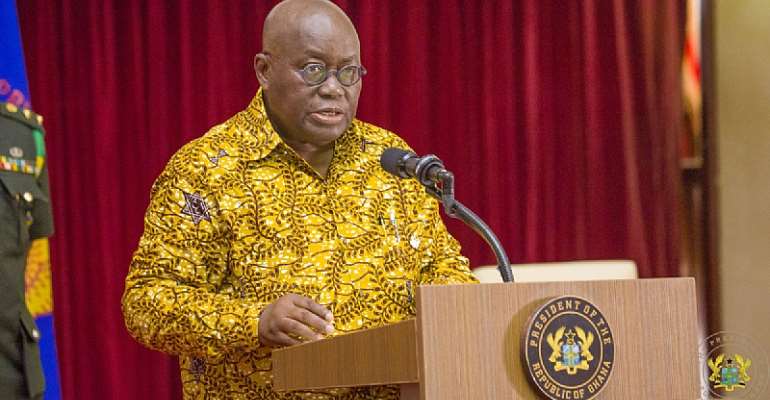 The various security agencies in the country have been placed on high alert to forestall any security threats at Ghana's borders.
It follows government's decision to open the country's borders to facilitate free movement of humans, goods and services between its neighbouring countries as part of protocols [agreements] signed among members of the Economic Community of West African States (ECOWAS).
President Akufo-Addo, who made this known at the graduation parade of the Ghana Immigration Service Officer Cadet Intake 9 at the Immigration Academy and Training School, Assin Fosu in the Central Region yesterday, said the government was mindful of the security threats and challenges this policy might bring, especially with the growing threat of terrorism in the sub-region.
Assurance
He assured his countrymen that "our security agencies have been put on high alert, and are coordinating effectively with our neighbours to keep our respective countries safe."
The president said, "The Immigration Service has played a key role in this coordinated effort, as it has provided critical and vital intelligence in addition to manning our borders rigorously during this period."
According to him, a fundamental part of his government's strategy for growth has been to associate Ghana strongly with the process of regional and continental integration.
President Akufo-Addo therefore stressed the belief that the measures his government had put in place should make Ghanaian businesses more competitive in West Africa, Africa and beyond.
"It is for this reason that government has taken the decision to open all our borders to operate for 24 hours. This will boost trade and tourism, and, then, we can reap the economic benefits," he posited.
"Opening Ghana's borders is giving true meaning to the ECOWAS Protocols on Free Movement of Goods and Persons; and will spur on progress and prosperity for our peoples.
"That is why, since 8th June, 2017, the Aflao border post has been running for 24 hours, and same has been extended to Akanu and Segbe border posts. In due course, Elubo, Sampa, Golokrom, Hamile and Paga will follow," he emphasized.
Worry
Unfortunately, however, he indicated that the opening of the country's borders 24 hours each day had also increased the spate of smuggling from the country.
He urged officers and men of the Ghana Immigration Service to be vigilant in assisting to combat this scourge, and help bring the perpetrators of these crimes to book.
"I am determined that our open-border policy will not lead to the undermining of our economy, and I need your support to ensure that," he appealed.
Effect
In recent years, the president had talked of how issues of migration had taken centre stage in national, regional, continental and global discussions, sometimes costing presidents and prime ministers elections, and brought in new leaders in some countries as a result.
"Immigration has been tied to global security, especially within the growing threats of terrorism. The fear of attacks is driving a growing link between anti-terror measures and immigration policy. At the same time, immigration has been proven to be a strong developmental tool of many countries, playing key roles in the rapid expansion of their economies," he observed.
Commitment
He stressed that in the 2016 Manifesto of the New Patriotic Party, they pledged to "offer extensive training in specialist areas in the growing areas of crime detection and prevention, customer service relations and trends in global cross-border crimes and anti-terrorism tactics."
The party also promised to "provide modern and strategic equipment to make them more efficient, as well as offering competitive remuneration to enable the Service attract the best personnel."
President Akufo-Addo therefore reiterated his government's commitment to achieving these campaign pledges, adding, "from the last 10 months, the period of stay of my government in office, you can all attest to the fact that when I promise, I deliver."
His advice to the granduands was, "The training you have received will assist you greatly in the discharge of your duties, and also in helping to realise the vision of the Immigration Service. I urge you to maintain high levels of discipline, and strive not to compromise on your professional ethics. Diligence, integrity and honesty must be your watchwords."