Assin Fosu: Police Still Unable To Arrest Suspect Who Defiled 4-Year-Old Girl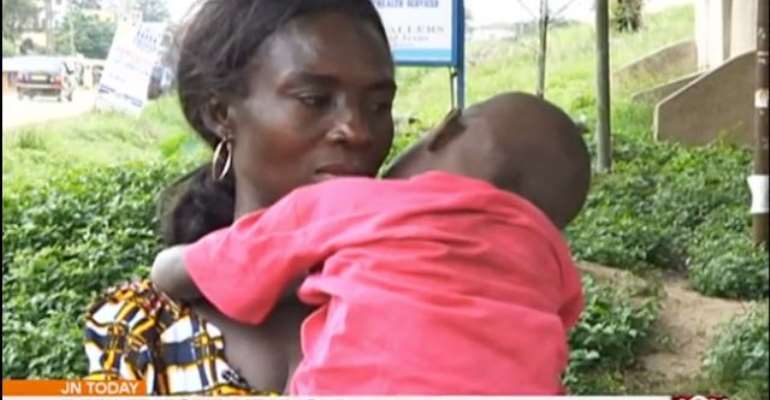 The Police in Assin Fosu in the Central Region, have failed to pick the suspect who allegedly defiled a four-year-old girl at Adadientem more than a week after it was reported.
This is because the Police in the area say the father of the victim, Isaac Kofi who first reported the matter, has not returned to the station to lead them to effect the arrest although the little girl named one Kwabena who lives in the village as the perpetrator.
The victim who was defiled on October 14, 2017, is unable to stand nor walk and the gruesome act is taking a toll on her health.
Videos captured by Joy News Maxwell Agbagba, who broke the news, show the four-year-old weak with bandages of the intravenous therapy still on her hand.
Her mother, Monica Nyarko reported the case to the chief of the community who failed to take any actions against the culprit.
According to the chief, the said Kwabena has been declared innocent by the gods, therefore, there is nothing he or anyone can do to him.
Speaking on the Super Morning Show on Joy FM Wednesday, Divisional Police Commander at Assin Fosu, Chief Supt. Henry Bacho said the police are waiting to for father of the victim, to lead them to the village to arrest the named suspect.
The police who had not contacted the complainant until Tuesday after Joy News reported the incident, claim they have been unable to make progress on the case because he [father of the victim] is in Accra.
A development Chief Supt. Bacho claims not to be aware of until when "I located a number yesterday and I called him [victim's father]."
Surprisingly, the police chief who is responsible for maintaining law and order in the Assin Fosu area told host of the show, Kojo Yankson that they did not know the location of Adadientem community which is within his jurisdiction.
"The child mentioned one Kwabena [but] we cannot go round and look for Kwabena; we don't know the village…that is why we need the father to lead us," Chief Supt. Bacho stated adding that they are "waiting for information from the complainant."