Banning Foreigners From Retailing Is Needless – Importers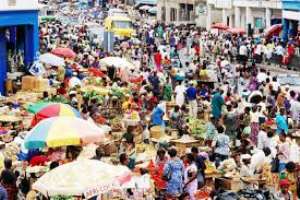 Importers in Ashanti region are calling on the government to establish a business center for foreigners instead of banning them from doing retail businesses in the country.
According to them, it will generate income for the country and end the seeming rift between Ghanaian Traders and foreigners.
The Ashanti Regional branch of the Ghana Union of Traders Associations (GUTA) has urged the government to urgently enforce the Ghana Investment Promotion Centre (GIPC) law which bars foreigners from engaging in retail businesses in markets.
The GIPC Act, 2013 (Act 865) states among others that: 'A person who is not a citizen or an enterprise which is not wholly owned by a citizen shall not invest or participate in (a) the sale of goods or provision of services in a market, petty trading or hawking or selling of goods in a stall at any place.'
GUTA, at a press conference in Kumasi last Tuesday, stated that the illegal activities of such foreign traders, especially Nigerians at the Suame Magazine in particular, were killing local businesses and had serious security implications.
Speaking to Otec FM's Kwaku Anane Junior, Trustee of the Ashanti regional branch of Importers Association Mr. Festus Yeboah said he disagrees with GUTA on calls to ban foreigners from doing retail business in Ghana.
According to him, the solution is to establish a business center for these foreigners, citing South Africa where there is a convenient place reserved for people from different countries to Trade at a cost higher than that of citizens.
"The cost of rent for the these people is higher than that of citizens and for that matter if the government is going to establish a market for foreigners and impose a higher cost of rent and other taxes on them the country is going to generate more revenue.
He stated that if the government prevents foreigners from doing business in the country Ghanaians will suffer because most of our products are imported from foreign countries.
"If we are allowed to do business in China, South Africa and other countries why are we telling them to stop doing a certain type of business, so far as we have not given them a particular market to operate they should be allowed to operate," he said.
He believes Ghanaians cannot survive if foreigners are stopped from doing business whiles we import their goods into the country because the country does not produce a lot.
Mr. Festus Yeboah who is against GUTA's call for the ban on foreigners doing retailing claims some Ghanaians have also established businesses in other countries and could be treated badly and unfairly, should government decide to place a ban on these foreigners doing retailing.