Friday Floods Trap Kumasi Residents At Home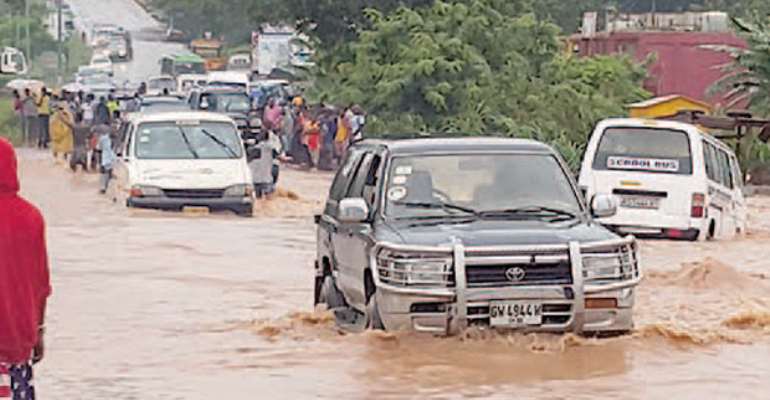 Thousands of residents of Kumasi could not go to work yesterday after an early morning heavy downpour flooded most parts of the Ashanti Regional capital.
The rains started at about 5:00 am when some of the residents, notably workers, were preparing to go to their various workplaces.
But the downpour continued to about 11:00 am before it stopped, making it impossible for the residents to go to work.
Roads Blocked
Some of them defied the rains and left their houses with intent to go to work.
But unfortunately for those people, they could not travel to their workplaces, as they were impeded by flood waters that had submerged bridges in the city.
People were seen standing in awe as they watched the water level rise by the minute.
The worst affected areas included a bridge that links Ahodwo to Daaban and Adiembra to the Nhyiaeso Road – all residential areas.
The Santase highway, which is a busy road that links Kumasi to the mining city of Obuasi, was for the first time seen flooded, showing the intensity of the downpour.
The Airport Roundabout to the Manhyia Road was also submerged as usual and a bridge at TUC also got flooded.
Houses Submerged
As expected, all the flood-prone areas in the city such as Atonsu, Aboabo, Abuakwa, Sepease, Buokrom and Airport Roundabout, among others, got flooded.
Most of the houses were filled with rainwater, which destroyed valuable appliances of the affected people.
People who reside in the aforementioned areas could not even come out of their rooms, as they feared that they could be washed away by the floodwaters.
Mayor's Visit
The Kumasi Mayor, Osei Assibey Antwi, visited the flooded areas as early as 6:00 am to get first-hand information.
He was accompanied by the National Disaster Management Organisation (NADMO) officials and other gurus of the Kumasi Metropolitan Assembly (KMA), ostensibly to strategize to avert its reoccurrence.
Mr Osei Assibey Antwi, who took the flood issue very seriously, did not go to his office as he spent the entire day visiting all the affected areas.
The massive flooding of the city could be attributed to the construction of buildings at unapproved areas.