Hotel Kufuor: Charles Sam Speaks Again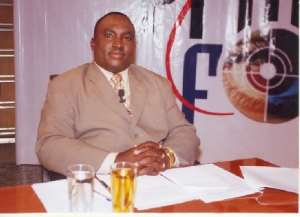 Hotel Kufuor is not our pressing priority HOW IT ALL STARTED…. On some of my radio programmes, I have occasionally made available some information concerning government's accurate position on certain issues . I believe if by the grace of God, I have access to any relevant information of national interest, I should use it for the benefit of the country and that is what I have been doing on my programmes especially on Vibe FM. I do this so that we can understand the direction of the President so as to form a better partnership with him to build a better Ghana.
I am not on contract to speak for government. It was during one of such mission that I sought information on the much spoken about Hotel situated close to the residence of the President which (off-course) I made available to the public. I will not comment on the hotel issue but whilst recognizing the importance of matters related to good governance, I must express my dismay at the manner in which this whole issue was handled by all sides. Even more disturbing is the fact that it has distracted our national life from moving at the accelerated pace required to meet the challenging targets ahead of us. Legitimate as the establishment of truth may be, such a process should not replace our prime focus on accelerated advancement. Let me also state for the record that I am neither the spokesperson nor I am doing PR for Chief Kufuor.
In that interview with Joy FM, I stated categorically that I am a family friend who on his own volition, sought information to make available to the public. Normally, I would release such information on my programmes on Vibe FM but when Joy FM made contact with me, I obliged because their network had a wider reach. If it's PR, I have successfully accomplished very challenging tasks for some Heads of State and governments in Africa and even on war fields. All who watched former First Lady Nana Konadu Agyemang Rawlings' interview on Metro TV's Good Evening Ghana Show hosted by Paul Adom-Otchere sometime last year attested to the fact that it was ! brilliant PR. Again the last two interviews on Metro TV's Prime Focus with Hon. Alan Kyerematen featuring the 4 year achievements of the Kufuor administration was also effective PR. Those were all my PR handiworks and there are more but I am an African seed that does not expose itself pre-maturely lest the birds of the air would eat it up.
I must admit that I was very naïve with respect to the history of this hotel because I was not in the country when all these things started and times were quiet about it since I came to Ghana until recently. I was surprised to know that this is a matter that has dragged on for quite a while. MY RELATIONSHIP WITH PRESIDENT KUFUOR I have great respect for the President and my respect for keeps growing as I fathom some of thoughts he has for this country. I have worked very closely with another African head of state and I believe I know a good leader when I see one. The relationship between Former Gambian President Sir Dawda Jawara and myself, I am referring to here. I have had the opportunity to listen to President Kufuor on several occasions, both privately and publicly. Some of his views I have expressed on my radio programmes and even treated series to break down some of his speeches to the common man's understanding. One of such speeches was his Inaugural Address which I thought was a brilliant model for democratic national development. I had the opportunity of hearing directly from him, his thoughts on Ghana and his vision. This has given me a clearer understanding of his policy direction. Without saying any more, suffice it to say that I cherish his hopes and vision for the Ghanaian youth. I see my relationship with President Kufuor, however distant, as a relationship between the youth of Ghana and the President because the empowerment and creation of development opportunities for the youth is my primary concern and focus. I believe the best partnership the President can forge to have his dream delivered is with the youth. Pres! ident Wade of Senegal has engaged in this type of partnership and it seems to be going well. The youth of that country are very crazy about him and that has been the President's security. I AM HEALTHY Contrary to what the some media houses reported and the numerous interpretations that went with it, you can see for yourself that I am well. It was rather interesting listening to all shades of opinion, most of which were defamatory and designed for my personal destruction by various groupings and individuals within our society. Thank God we now have an atmosphere that allows Ghanaians to use the media to lambaste Charles Sam. It has given me a vividly true picture of our society and even strengthened my resolve to invest more into the change and advancement process. A grain of seed must first fall to the ground and die; thereafter, it shall spring forth into greatness. Risk Ghana faces Well I am quite uncomfortable with what I see in Ghana. We seem to be heading in the direction of trouble. Taking a microscopic look at a country with a people with great aspirations, who are determined to work, who want a better life for themselves, a people who want to build a great country, one imagines what this country would have been like if she had the blessing of a truly visionary, truly God-fearing, inspiring, dynamic, strong-minded, people-centred, mission-minded, strategic-thinking, business-minded, action-oriented, result-or! iented, pragmatic, honest, highly responsible, unifying and charismatic leadership with a full understanding of the dynamics of today's world of which contemporary economics forms a major part. Unfortunately, the country is engulfed in excessive politics and this is the kind of situation responsible for what is happening in Ivory Coast, Sudan and a host of other African countries experiencing civil strife. Everything is politicized. Very soon and you will find N.P.P and N.D.C kenkey on sale.
My expectation of President Kufuor was to have done the best within his ability to address this potentially dangerous culture. Today, the problem is deepening with everybody taking an entrenched, non-dialoguing, uncompromising, confrontational position. Ghana is now highly polarized along party lines. It's a messy situation and the media is not helping us exit this catastrophe. On radio programmes, put out a topic bordering on NDC - NPP politics and the world of phone responses would be your portion. But talk about good health car! e or ICT and nobody calls. People read political leanings rather than logical meanings in any statement or action of genuine Ghanaians. In this type of atmosphere, genuine contributions would be a very rare commodity and that stifles national accelerated growth thereby steaming up frustrations and tensions that ultimately prevent creative citizenship. WHAT IS THE WAY FORWARD The period between the declaration of results of a general election and the beginning of the campaign season preceding the next general election should find ourselves developing strong nationalism and truly building our nation. Modern day leadership requires a thorough search, identification, mobilization and synergizing of talents, skills, expertise and strengths to create a winning situation. The solutions to most of the government's headaches are right here in Ghana. Ghanaians, irrespective of their political affiliation, tribal grouping or creed are of inestimable value and have in their possession strong and authentic global connections for foreign direct investment, foreign capital, factory equipment, machinery for modernizing agriculture and the ability to turn the economy around. If we are serious about creating and entrenching the Ghana Incorporated Culture, then the politicization of economic development and the 'NOKOFIO' economic model must seize without delay. There a Ghanaians engaged in some powerful exploits in other nations simply because they have been given the opportunity to invest their strength. In a weak economy like ours, the question as to whether one is an NPP,NDC, PNC, CPP Loyalist, WAHALA demonstrator or fierce critic of government should not arise if we are to build a viable successful private sector that will create jobs and pay taxes to the state. If we trul! y believe in God Almighty who deemed it fit to have all of us here in Ghana at this time, then we must also believe that there is a crucial part each one of us has to play in the process of making our nation great and strong.
I am not a member of any political party and certainly not a tale-bearer who trades information between parties. I am simply a nationalist who would give my full backing to anything genuine that would add to Ghana's credentials. Even though I have a relationship with the President and support every good effort of his and that of his government toward national advancement, I am also known to have criticized certain actions and inactions of his as well as his government publicly, whenever the need has arisen. How can you discard a leg you need to run an unsup! ported race and expect victory? The leg I am referring to is the Ghanaian irrespective of his or her political colour. The great life we want to live is in the basic principles of life so we must go back to the basics. MY CONTRIBUTION TO GHANA I can humbly say that I have influenced mental and attitudinal change in thousands of youth who are addicted listeners to my programmes 'SHAPING THE NATION' and 'THIRD FORCE' on Vibe Fm. I have also prepared a number of them and given them business capital to develop business opportunities. Without saying too much, I would finally add that I had the opportunity of donating some modern electric bikes to the Ghana Police Service. WEALTH & JOB CREATION Having the best macroeconomic situation is great and a helpful foundation for private enterprise development but it becomes meaningless to the majority of the people when it cannot translate into massive micro activity that stimulates the economy, creates jobs, creates wealth and pays taxes to government. What I think we ought to do is to put a major part of our energy into community initiated projects with a cooperative structure. The concept will be one that has businessmen partnering with communities in agro-industrial activity. 35% of the salary of Ghanaians' living in Accra goes into transportation cost and 15% of our life in Accra is spent unproductively in traffic. Also, most of our lands for massive agricultural activity and raw materials for industrial production are in districts outside Accra. It is only logical that we develop these model production units in communities where workers reside within a short distance of their work place and also where there is literally no traffic nor stress. Community empowerment at work!. We must set up model agro-industrial centres outside our major cities that will attract people and further investments for that is the path to serious development. Production should focus at feeding domestic and export markets. The criteria should be based on rural communities, multiplying effect on the economy, technology oriented to provide a basis for competitiveness, based on available local raw material, and based on existing skills and knowledge for short term results. This why I think the concept of the President's Special Initiatives on Salt, Oil Palm, Cassava, Sorghum etc are good productive development and mass employment concepts that need all the nation's support. Again the Alan Kyerematen – engineered Rural Enterprise Development Programme (REDP) designed to establish one or more agro-based industries in every district of Ghana is a great vision. Here again is the concept of businessmen partnering communities using the principle of technology with mass manpower in the cooperative style. The multiplying effects on our economy are numerous. We must pump money into it for a better tomorrow. It is easier for banks to finance or any other party to lend support to cooperatives than individuals. We can start with a part-mechanized and part-traditional concept. Bulk equipment shared through cooperatives for bulk jobs on massive farmlands should be acquired and deployed. We can also set up Youth Agricultural Farm Camps for short-term produce to create mass employment for the youth all over the country. Why can't we produce Roses in the winter time for export, organic foods f! or Europe, ginger and horticultural products for export.? We have a comparative advantage with Grass Cutters so why don't we develop a massive global market for it and get into it's mass production? Why don't we make a gain out of the brain-drain by educating people for export to provide health services abroad.? We can take a portion of their income. Government can negotiate through some protocols with nations like Spain etc to export Ghanaian technicians, ICT workers, farm workers, construction workers etc. These protocol arrangements would include guaranteed visa component. We could negotiate for loads of documents to be brought down here from the West for processing. We need to create a market for some of our products to be sold ! in China. We can sink some c50 billion (Cedis) to create 50,000 jobs across regions. Jobs include block-making, refuse collection with trucks, water distribution with tankers, food distribution (rural/urban), They should be organized in the form of cooperatives. There should be an emergency programme to make it a pre-condition for all construction works by government to employ 10% of the work force from graduates of technical schools and the youth in the area of operation. The ICT industry, Services, and Tourism are all areas for job and wealth creation. There should be special investment packages and significant tax rebates for any local business that will promote industrial development. A programme could be developed for existing industrial set-ups to absorb the youth for on-the-job training in exchange for some form of incentive. Our textile industry should re-equip themselves with modern equipment that produce materials currently imported from Asia for production of garments under the AGOA programme. District Chief Executives should lead business development in their districts by supporting production, investment promotion drives within the business community in Accra, negotiating for markets for farmers etc and setting up websites to advertise available business in their districts. We should be able to develop some markets for products which we have a comparative advantage so that our factories can work 24 hours a day. We should penetrate and take-over the West African market and finally we must add value to our raw materials. Every finished product you see on a supermarket shelf has an industry behind it and people operate industry.
It is entrepreneurs, risking their own capital by investing in new ideas,who create the wealth in the world today and pro! vide jobs. The Kufuor administration should encourage them and listen to their advice.A clean slate for the nation would make the task easier, but what will get Ghana ahead has to come from those who want to get wealthy along with the nation. "If we show we can improve our economy from the inside, foreign investments will pour in. Growth will require the right conditions for entrepreneurs. That usually means lowering taxes, cutting bureaucratic red tape (i.e., telling a domineering civil servant class to lay off) and taming inflation.
The government could free up more money if it could slash his own bureaucracy and cut wastage. Inflation, though halved since President Kufuor took office in 2001, is still a miserable 12%. Per capita income seems glued at $440, which in terms of buying power is where it was 30 years ago. More effort should be put in. These are a few ideas I am putting forward but there are a lot more and they are very pragmatic. The success of a nation is dependent on the opportunities created for the majority of her citizens to plug their energies into progressive development. There needs to be a new type of short term vision-oriented, inspiring, captivating nation-rising campaign by the President through mass media and community visitation to build a dream team for our Golden Future. This calls for a change in his leadership style.
The good people of Ghana need from President Kufuor, a legacy of UNITY and not DISUNITY, one of HOPE and not DESPAIR, TRUST and not SUSPICION, and atmosphere of CREATIVITY and not DESTRUCTION and finally a Ghana of PEACE and not WAR.
God Bless Ghana.