October 4, 2017
|
General News
Stay Off Mills/Mahama Jambussi Water Project - Akamba To Akuffo Addo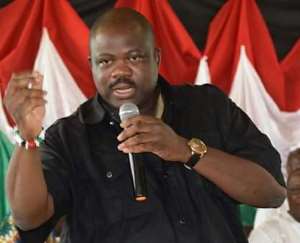 The Deputy National Organizer of the Opposition National Democratic Congress, Mr Joshua Hamidu Akamba has warned President Akuffo Addo to stop doing cheap politics with Former President Mahama's Jambussi Water Project.
Mr Joshua Akamba made this statement in a facebook post in response to comments made by President Nana Addo Danquah Akuffo Addo at the commissioning of the Jambussi Water Project in the Upper West Region.
President Akuffo Addo earlier today, commissioned the $51.5 million Wa Water project at Jambusi for use. He did that as part of his Tour to the Upper West Region.
The President emphatically stated that he was very happy commissioning the project because it was started by Former President Kuffour.
This comment by the President has received loud criticisms from most Ghanaians especially the people of the Upper West region who have described the comment as false and misleading
But reacting to this comment in a facebook post, Mr Joshua Hamidu Akamba described the Presidents comments as "Politics of Lies and deceits. President Akuffo must stay off Prez Mahama's Jambusi Water Project. Spare us the cheap propaganda.Governance is a serious business. Funding for the project was sought under President Mills, sod was cut for the project by H.E John Dramani Mahama in 2013 and construction begun so its outright falsehood for Akuffo Addo to suggest that Former President Kuffour begun the project."
President Akuffo Addo will as part of his Tour, proceed to the Upper East on Wednesday 4th October, 2017 and is expected to among other things, inspect progress of work on Bolgatanga to Pulmakrom Road and the Tamde Irrigation Project in the Garu-Tempane District. These are but few of the numerous projects commenced by Former President John Dramani Mahama in the region.