11 August 2017
|
Opinion/Feature
Valerie Sawyer Is Right; JJ Is Guilty Of Corruption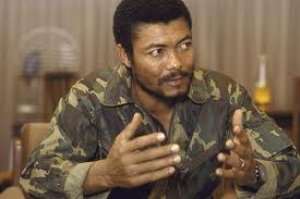 People don't want to hear the truth. But the truth must be told. J.J Rawlings the NDC founder is very corrupt and he has used his wife to hide all the stolen wealth and properties he illegally and corruptly acquired during his nineteen year rule and continues to acquire up until today. Those Insulting Madam Valerie Sawyer for speaking the truth are cowards, bootlickers and beneficiaries of the Rawlings corrupt loot!
JJ's blind followers can continue to live in self denial. As we speak now, there is no single individual who owns more lands in Accra than J.J Rawlings and his corrupt wife. All the lands they stole from the state are prime lands, taken from the state and put in their own names. Much of the lands have been sold to foreigners for hard currency to finance their expensive lifestyles here in Ghana and abroad. Go to Osu, Cantoments, airport city, Dwowulu, East legon, Labone, and many prime zones in Accra!
Talking about lands, the same President John Mahama that Rawlings is accusing today of corruption even helped Rawlings and his wife to acquire state lands. So if Mahama is corrupt, JJ and his wife benefitted from it.
Go to Nsawam, talk to the people and chiefs of Adoagyire. About 770.4 acres of state lands were appropriated by Rawlings and his corrupt wife Nana Konadu Agyeman - Rawlings, mother of probity and accountability in 2013 under the leadership of John Mahama. it was the Oyokohene of New Juaben, Nana Kodua Kesse, II then eastern regional chairman of the lands commission who was also member of the council of state under John Mahama who signed off those lands at a paltry sum of GH 5 per acre for fifty(50) years to the Rawlings family so that they can develop and sell off to rich foreigners at the expense of the poor people of Adoagyire. As we speak now, The Rawlings family are embattled at the Koforidua high court over that stolen land.
Rawlings is corrupt. That is why he asked for prime lands at Ridge to build a so-called foundation. And even though he was granted land by the Mahama government, he refused to build the foundation but rather asked for all the adjourning lands in the prime area so that he can sell it off to his foreign business partners. He cannot even build a foundation after seventeen years of leaving office. President Dufour has built one in less than eight years after leaving office at the university of Ghana. Rawlings cannot even boast of a library, because he only thinks about himself.
The same J.J Rawlings who claim that Mahama is corrupt, was rescued by John Mahama not too long ago when he went to defraud somebody of $ USD 800.000 and could not pay only for the debt to be settled by the then President to avoid disgrace to the NDC family. Where did Rawlings think Mahama got the money from to pay off his indebtedness to that business man he owned?
Or does J.J Rawlings not care about the source of the money as long as it comes to his pocket? just like he didn't care if the Abacha millions of dollars he took years ago was stolen from the Nigerian people or not?
Yes, Rawlings maybe right to say NDC is corrupt. After all, he founded the party and he knows everything that goes on and he is the biggest beneficiary of NDC corruption.
Through NDC corruption, Rawlings got his lazy and uninspiring daughter into parliament. Through corruption, the daughter Zanetor did not even have to have a party or voter ID card before contesting to become a parliamentary candidate. Through NDC corruption, Rawlings managed to get a corrupt supreme court to overturn a ruling by a high court judge to allow his daughter to contest for elections. And through NDC corruption, the Rawlings daughter, Zanetor, today refuses to attend parliamentary sessions whiles other NDC MPs write and sign her name in the attendance book on her behalf.
Even during the elections of 2016, as has been revealed by madam Charlotte Osei the EC chair, through NDC corruption and EC collusion, several thousands of illegal votes were transferred by Amadu Sulley the deputy EC chair, without knowledge of the EC chair person, to Klottey Korle from other nearby constituencies to enable the Rawlings daughter Zanetor, win to become parliamentarian by the hook and the crook. Through corruption, Zanetor the Rawlings daughter who claim to be a medical doctor, trained with our tax money, yet has never practiced medicine in Ghana, is now a parliamentarian whiles the other children, including their chain-smoking son, Kimarthy Rawlings wonder about aimlessly around the world without any meaningful contribution to Ghana after their expensive education.
Wasn't it also because of corruption that made Rawlings and his government give out several state owned factories including Nsawam canary, GIHOC distilleries, chain of GNTC stores, bakeries, chocolate factories, government and private buildings and properties to his wife Nana Konadu Agyeman Rawlings in the name of 31DWM?
Was Rawlings not corrupt when he led his wife to take about $USD 5 Million judgement debt from the Atta Mills government because she claimed President Kufuor had stalled the work of her chocolate factory she wanted to operate with Chinese in Ghana? Where is the chocolate factory after hoodwinking the Atta Mills government for USD5M of Gnaian tax payers money? Was that not 419? and now the same Rawlings says Atta Mills was corrupt? Mahama was corrupt? Kufour was corrupt? and only he and his wife are saint? No wonder the fearless and fire breathing valerie Sawyerr called him Saint Rawlings!!!
Is there any former head of state in Ghana who owns more properties than Rawlings? Is there any head of state in Ghana who owns more stolen gold bars than Rawlings? Was it not Rawlings who used to take a helicopter to Obuasi gold fields all by himself to loot our gold? Has he ever accounted for any of it? If Rawlings claims he hates stealing, where is the Ghana gold he stole to go create a jewellery shop for his wife in Switzerland? Rawlings is not only corrupt, he is also a big THIEVE. Don't let him deceive you with his holier than thou rhetoric! why did Rawlings smuggle indemnity clauses into the 1992 constitution to avoid accountability to the people if he is not corrupt? if he had nothing to hide?
Rawlings and his family personify corruption. He can no longer hide his corrupt face. And recently in 2016, Rawlings and his corrupt wife corruptly took over USD 3M from the Akuffo Addo Team to help them win elections by selling out the NDC party. Because of corruption, Rawlings has sold away his conscience to the NPP and he cannot dare criticise them for fear of exposure. Rawlings has now become a puppet of Nana Akuffo Addo because Rawlings took their money.
Why does Rawlings hide his stomach all the time in pics? Why does he not want people to see his protruding stomach? why does he keep his two hands crossed on his stomach all the time? It is because Rawlings is ashamed and his stomach is betraying and exposing his corrupt nature.
I will tell you, when Rawlings shouts corruption on the roof top, it is simply a distraction to turn people away from himself and his corrupt family. It is obvious Rawlings is more corrupt than all the Ghanaian heads of state since independence combined.
I challenge J.J Rawlings to dare criticise Nana Addo and the NPP and accuse them of corruption, if he did not take bribe money from them. There is corruption going on right now under Akuffo Addo and Rawlings cannot pretend to be blind. Only corruption can blind a man like Rawlings to what is going on!
Let Rawlings Speak against corruption in the Nana Akuffo Addo government or shut up forever!