Ghana's Envoy Praises African Enterprises In The UK
Diaspora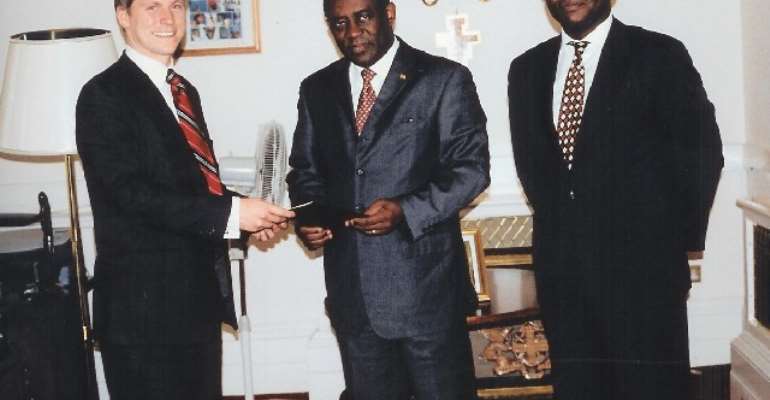 The inroads being made by African enterprises in the UK are laudable, Mr. Isaac Osei, Ghana's High Commissioner said in London.
He said these enterprises had helped to bridge the gap between British and ethnic minorities and fostered understanding within the cultural divide.
Mr. Osei said the survival of these enterprises depended on the frontline patronage of Africans and blacks in the diaspora and therefore called on them not to disappoint their clients.
He, however, cautioned the enterprises to ensure professionalism in their operations in order to win the continuous patronage of their goods and services.
These remarks were made by Mr. Osei when a two-member delegation of Cashmo Politan Limited, UK, a money transfer firm paid a courtesy call on him at his office in Belgrave Square, London.
They were Messrs Moyo Kamgaing, Managing Director and Mr. Scott Clarkson, both Managing Director and Marketing Manager respectively of the firm.
Mr. Osei told the officials that in the competitive money transfer market, their survival would depend on the efficiency of service rendered and the charges their customers were required to pay.
Responding, Mr. Moyo thanked the High Commissioner for receiving the delegation and added that the firm would do its best to ensure prompt service to its clients.
He assured the High Commissioner that the company would in the not too distant future make contributions to a number of charitable projects being undertaken in areas of their operations.
The company established about a year ago, currently operates from UK to Europe and some countries in the West Africa sub-region.