Policemen Beats And Stabs 30 Year's Old Man In Sunyani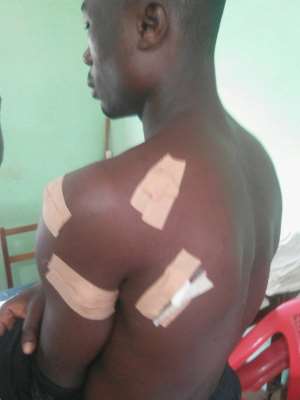 Bright Badu, a native of Fiapre, a suburb of Sunyani who works at the office of Dormaa Stool lands in Sunyani of the Brong Ahafo region has narrowly escaped death after he was brutally beaten and stab by two policemen from Sunyani Divisional Police command.
Bright Badu,who is currently receiving treatment at Sunyani regional hospital narrating the incident to Sunyani based radio Metro 90.5FM said " I had a misunderstanding with a co-tenant (Lady) I shares a veranda with, so I slapped her when she insulted me with harsh words like ' Useless Man' ,'Fool', 'Stupid Man', among other words.
He said subsequently the lady reported the matter to the police.
Bright who is in his 30s said the next day two police officers visited his house to arrest him but meet his absence.
According to him, the police officers took way his flat screen television and left a number with his girlfriend for him to call when he returned.
He said the two police officers returned in the night on the same day only to accuse him of being a thief and started beating him mercilessly.
According to him "I told them that it was late so they should go so that I report to the station the next day but they refused.They accused me of being a thief and started beating me mercilessly and one of them pulled a knife and stabbed me several times on my shoulders and even forced me to lick his blood when his knife gave him a cut when he was struggling with me".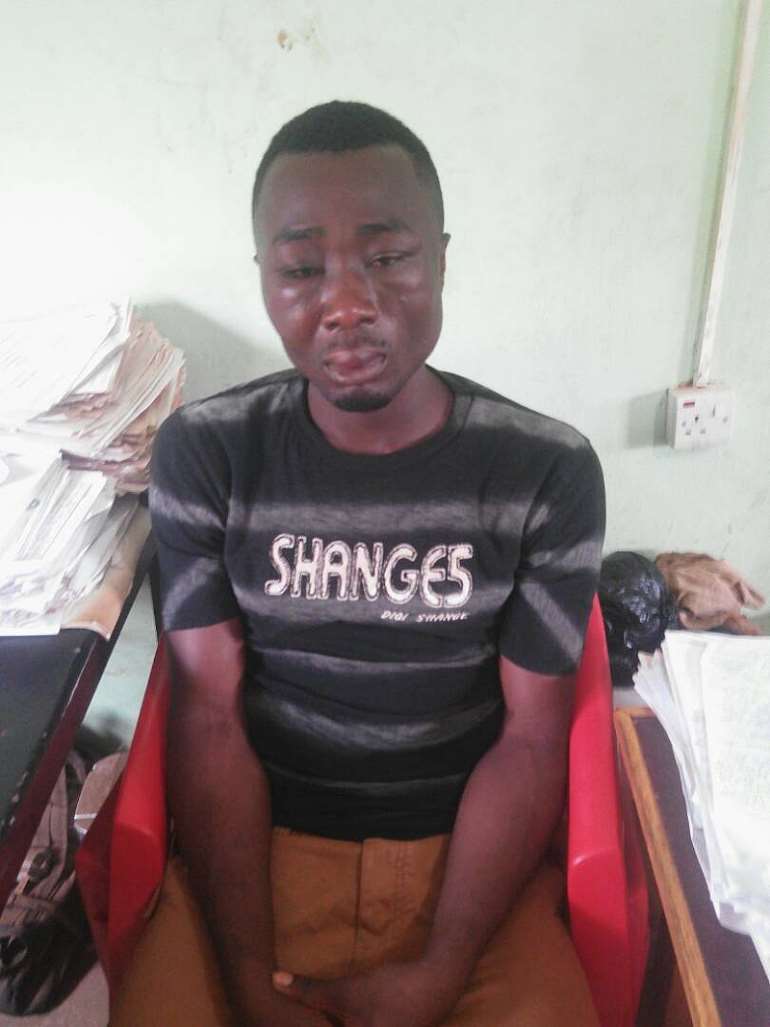 When Metro 90.5FM contacted Superintendent Nana kwaku Duah, Brong Ahafo Regional Crime Officer he said" yes it's true that we have a case like that.we have received a complaint by name Bright Badu who is himself a suspect in an assault case. It is also true we sent two officers to arrest him after receiving a complaint by a lady who claimed that Bright had assaulted her. But within a short time some people came to report that Bright had been assaulted and stabbed by the officers we sent to arrest him".
"So we then gave him ( Bright Badu) a police form to go to the hospital to get a medical report," he added.
"As you can see from my desk this is the file's am working on. what I can tell you is that investigations into both cases have begun and we urge the general public to remain calm as we try to unravel the truth in both cases," Superintendent Nana kwaku Duah.