Major Mahama's Murder: Treat 12year Boy Case As Juvenile - Bright Appiah
News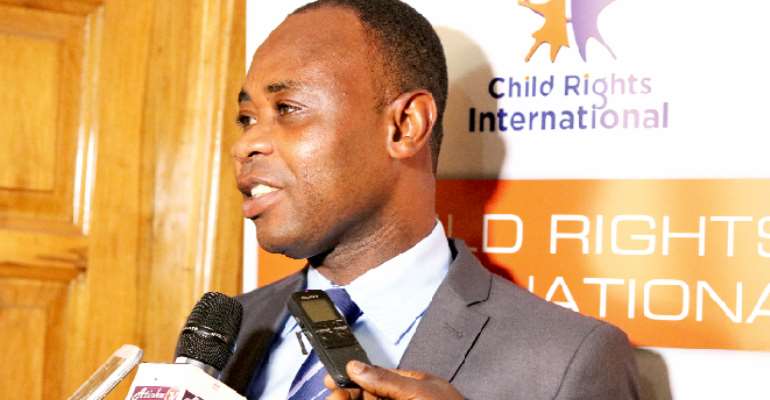 The Executive Director of Child Right's International (CRI), Bright Appiah says the case of the 12-year boy who was arrested in connection to the murder of the late Major Maxwell Mahama be treated as juvenile.
Speaking at a news conference in Accra, he noted that the criminal justice system requires that a crime committed by children between the ages of 12 and 18 be considered as juvenile irrespective of the severity of the crime committed.
Mr. Appiah added that rights of the child who is in the grips of the police be respected indicating that if that child is found guilty, "we expect systems to work for rehabilitation and reintegration."
He noted that the excessive exposure of the children of the late Major Maxwell Adam Mahama is an infringement on their dignity and privacy.
The Executive Director posited that all actions, in accordance with section 2 (2) of the Children's Act 1998, must be taken in the best interest of the children.
He however urged the authorities to caution the public to desist from sharing the images of the children as it may have some repercussions on their future development.
According to him, continuous exposure of these children in relation to the incidence may affect their social interaction and access to their rights in the future.
Mr. Bright Appiah emphasized that the manner in which investigations were conducted in Denkyira Obuasi where women and children were camped could imbibe fear in some of the children.
He stressed that the incident and its aftermath makes it necessary to assess the impact on the emotional or psychological well being of the children and must rightly be taken through rehabilitation programme where necessary.
Mr. Appiah indicated that such situations make children more vulnerable and expose to all forms of abuse adding that abandoned children as we saw in the case of the massive flee from the Denkyira Obuasi where the late army officer was lynched could lose access to their rights to education, healthcare, shelter and even protection.