Chief Justice Georgina Wood Officially Retires Today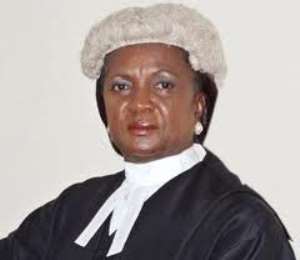 Chief Justice Theodora Georgina Wood retires from public service today, Wednesday June 7.
A thanksgiving service was held in her honour at the Holy Trinity Cathedral, Accra, on Tuesday June 6, 2017.
The event was attended by clergymen, politicians, lawyers, judges, and others. She will be joining the Council of State.
Mrs Wood is replaced by Justice Sophia A.B Akuffo, who was appointed by President Nana Addo Dankwa Akufo-Addo as the next CJ.
Her name has since been submitted to the Appointments Committee of Parliament for vetting.