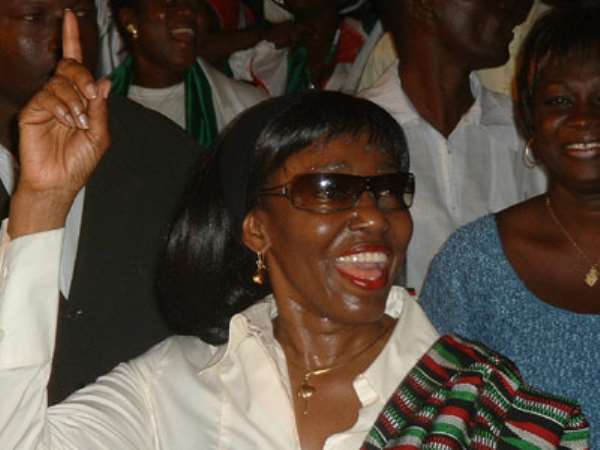 Accra, May 17, GNA - Hundreds of members of the 31st December Women's Movement (DWM) on Tuesday congregated at the Nungua Traditional Council grounds in Accra for the 23rd Anniversary of the formation of the Movement.
The Greater Accra Regional Branch of the Movement organized the celebration on the theme: "Revamping the 31st DWM Through Effective Re-Organisation."
The women, who trooped to the grounds, clad in white signifying victory and wearing their red berets danced and sang to brass band music.
The cheers that greeted the arrival of the Former First Lady and President of the Movement Nana Konadu Agyeman Rawlings and she responded by joining the members on the dancing floor.
The Movement is a non-governmental organization formed 23 years ago aimed at mobilizing women for political, social, economic and cultural empowerment.
Speaking on: "The Dangers of Cancer," Dr Nii Oakley Quaye-Kumah, who was the National Democratic Congress (NDC) Parliamentary Candidate for Krowor in Election 2004, urged women to undertake periodic checks, monthly self-examination of the breasts a week before and after menstruation and clinical examination every three years. Madam Cecilia Johnson, General Secretary of the Movement, said after 23 years, the Movement was firmly established and no amount of intimidation would dampen its spirit.
"The red beret has come stay; we owe it all to God, who has delivered us out of the turbulent seas. We have overcome the forces of darkness; we are springing up again with more power, energy and unity of purpose and people should watch out," she said.
"No force can extinguish the 31st December Women's Movement from Ghana. We are ready to ensure that governments are accountable to the people," she said.