The Kintampo Saga And The Germane Issues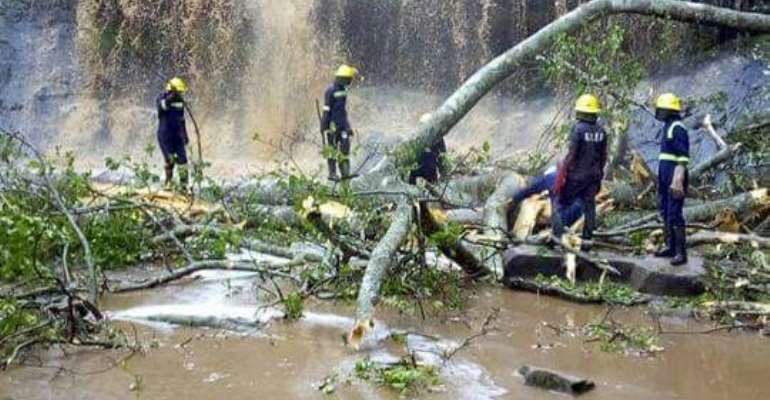 It look as if the Nation is at it again ; trying to find a non existing scapegoat out of the gory accident in Kintampo in a rather perplexing approach and some well meaning Ghanaians are transferring the strictly reserved power of omniscience from God to the invincible forces forcing it through the throats of Ghanaians hook line and sinker, but what is the issue?
I took my students on the 1st of August 2015 to the Falls . I must confess the first impression wasn't that heart warming ,they had two tourist guards an inexperienced looking young man and a 2" midget, as usual we were ran through the history of the falls among other things was it's source from river POPOM as we sojourn together from the entrance to the falls my students kept laughing at the midget sometimes in unison, who they felt was himself a walking tourist attraction .
Finally, we were at the Almighty falls which was about 157 stairs below sea level. Although quite serene there wasn't any tuition on safety precautions and so as usual our guards left us to our fate ( one for himself and God for us all) only to usher in other tourist .Down there I saw a blood tasty tourist site waiting rather patiently to claim lives. A part from the fact that the trees were on weak footing which made them appear rather oblique there could be a potential cave in or better still cascade as a result of a very heavy storm. And sadly like the chiefs of Kintampo claimed the invincible forces enchanted the rain and storm altogether to claim the valuable lives of our future leaders that is sardonic isn't it?
And then at Damongo mole park I felt it had met the litmus test of a wildlife tourist site of cause they was a briefing on the safety precautions and a gun wielding tourist guard accompanying us but believe transmogrified into a rather vulgar perception when one of my students: ZANIRATU MALITITI asked the gourd of he was sure that they were bullets in his gun unfortunately that harmless question from an inquisitive chap did go down with the guard you know what ? He was a Ghanaian like us .
NAME F. I. JUNE
MATHS TEACHER RHEMA INT.JHS
YENDI