Justify the honour bestowed on you - Minister tells chiefs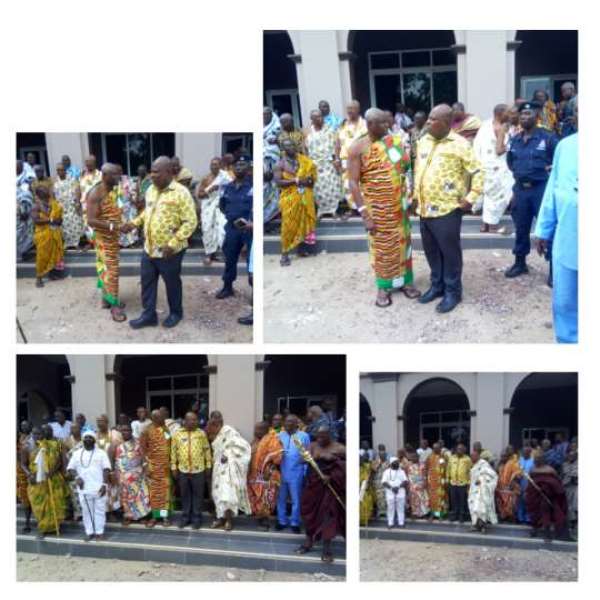 By Hafsa Obeng/ Gideon Ahenkorah, GNA
Accra, March 18, GNA - Mr Ishmael Ashitey, the Greater Accra Regional Minister, has called on chiefs in the region to work hard to justify the dignity and honour bestowed on them as traditional leaders of the land.
He said chiefs were accorded dignity and honour in socio-economic and political spheres of the state and needed to uphold and protect that recognition.
Mr Ashitey said this on Friday when he paid a courtesy call on the Greater Accra Regional House of Chiefs at Dodowa to familiarise himself with their activities and make known his vision for the region.
He gave the assurance that government would not interfere in chieftaincy issues but rather provide enough room for proper execution of issues such as the nomination and installation of chiefs which were the prerogative of kingmakers.
He dismissed allegations peddled by some sections of the public that government had a hand in the installation of chiefs in the Ga State and said; 'indeed government does not and will not determine who should be a chief.'
Mr Ashitey said the region had suffered many chieftaincy disputes which had slowed down development, adding; 'this is of concern to many well-meaning Ghanaians as well as the Regional Security Council.'
He expressed regret that the installation of Nii Tackie Obli II as Ga Mantse on February 5 was still generating series of concerns amongst some interested parties to the Ga Paramount stool, which he described as sad.
He advised all aggrieved persons to seek redress through the appropriate traditional institutions and the courts.
'The people of Accra, especially Ga Mashie and its environs, should remain calm and be law abiding in the midst of these developments,' he said, and implored them to refrain from acts that contravened the laws of the land and image of their 'noble institution.'
Mr Ashitey reaffirmed government's commitment towards championing prudent initiatives to deepen decentralisation to ensure that all persons in Accra got a share of the national cake.
He reiterated the efforts of the Regional Security Council towards combating any threat to the peace and tranquillity of the region.
These commitments, Mr Ashitey said, could only be achieved with the support of the chiefs adding; 'it is my belief that in this crusade we can count on your full support and your guidance at all times so that together we can bring prosperity not only to this region but to all parts of our dear nation.'
Present at the event were Nii Okwei Kinka Dowuona VI, Osu Mantse, Nene Abram Kabu Akuaku III, Ada Mantse, King Dr Odaifio Welentsi III, Nungua Mantse and Nii Tetteh Otu II, Kpone Mantse.
The others were Nii Kpobi Tettey Tsuru III, La Mantse, Nii Adjei Kraku II, Tema Mantse, Nene Atsure Benta III, the Acting President of the Prampram Traditional Council and Nene Aadegbon Ngmongmowuyaa Kwesi Animle VI, Osudoku Mantse.
The rest were Nii Doodo Nsaki II, the Acting President of the Ga Traditional Council as well as Nii Akwei Bonso III who represented Nii Kojo Ababio V, the Ngleshie Alata Mantse. GNA