Police Grabs Jealous Man Over Kumasi Fire Deaths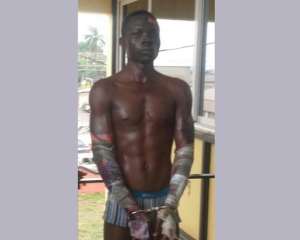 The police in the Ashanti Region have arrested a man suspected to have set a fire which led to the death of four people, including his ex-fiancée.
This paper could not readily get the exact details of the suspect as the police were tight-lipped over the matter.
Even though DAILY GUIDE tried its best, the name of the man, his age and where he was arrested, were not provided.
But sources disclosed that the suspect was allegedly behind the Monday dawn blaze at Breman Kontwima, which killed four people in a wooden structure.
The suspect was said to have been jilted by his ex-fiancée (name not revealed), who's now reportedly dating another man.
Monday dawn whilst the woman (fiancée) and her two children were asleep, the unidentified man was said to have locked the door from outside.
He, according to sources, then poured a liquid substance like petrol at the place and torched it before absconding to his hideout.
The woman, her two children and her fiancée, reportedly cried out loud for help but it was too late as the inferno burned them into ashes.
The police were informed about the case and through investigation they managed to apprehend the suspect from his hideout on Tuesday.
There were reported bruises on his hands and some parts of the body at the time of his arrest.
A police source hinted DAILY GUIDE that the suspect had confessed setting the fire at the place, citing broken-heart.FROM I.F. Joe Awuah Jnr., Kumasi