17 February 2017
|
General News
Chief of Bogu Elected Northern Regional Council Of State Rep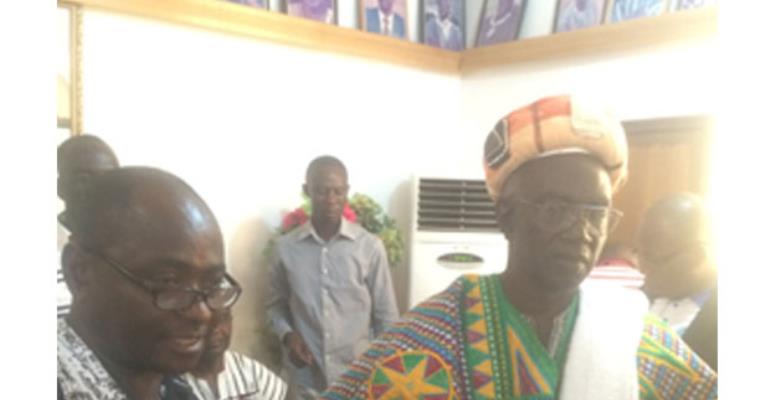 The Chief of Bogu,Yakubu. S.   Nantogmah declared winner as the Northern Regional Coucil of State rep  by   Electoral Commission
The Chief of Bogu in the Savulugu-Nanton District of the Northern Region, Yakubu S. Nantogmah, has been elected as the Northern Regional representative on the Council of State.
Professor Yakubu, 74, polled 20 votes out of the total of 52 votes, beating his closest contender the Kpemberwura, Dari Bismark Haruna, who polled 17 votes.
When the candidates were asked to give a short speech before voting, John Wuni Grumah and Soalisu Shaibu announced their withdrawal from the race and threw their weight behind Kpemberwura, Dari Bismark Haruna.
Some dignitaries, who graced the occasion, included the Northern Regional Chairman of the New Patriotic Party (NPP) Daniel Bugri Naabu, Clifford Braimah, bankroller and owner of King Faisal Football Club, Alhaji Grusah and some executives of the NPP in the region.
The winner was declared by the Northern Regional Deputy Director of Electoral Commission (EC), Benjamin Bano Bioh.
Speaking to DAILY GUIDE, Professor Yakubu. S. Nantogmah said he would champion the development of the Northern Region.
According to him, agriculture can be used to eradicate poverty from the north given the right tools and attention.
He disclosed that he would promote peace in the north, adding that much time has been spent in fighting each other in the north.
Professor Yakubu said the country has so far spent huge amount of money to tackle the conflict in Bimbilla, saying that money could have been used to develop the agriculture sector of the Northern Region.
He appealed to the other contenders and the people of the Northern Region to give him the necessary support to achieve his goals.
The Kpemberwura, Dari Bismark Haruna, pledged his full support for the winner and assured him that his doors would be opened anytime.
"Yakubu S Nantogmah is my brother and we will put our heads together to make the region proud."
From Eric Kombat, Tamale