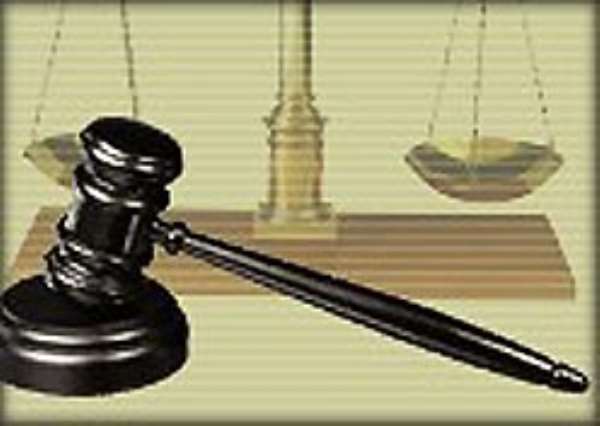 Accra, April 7, GNA - A Ghanaian Banker, who had his luggage stolen on an Alitalia flight, has dragged the Airline and its Managing Director to an Accra Circuit Court.
Mr Herbert Akai Nettey, the Banker, is seeking damages for breach of contract, recovery of 4,300 pounds sterling being the cost of the lost items; interest on 1,300 pounds that was in the briefcase at the prevailing bank rate and cost to be awarded by the Court.
The Court adjourned the case to April 11 for counsel for the plaintiff and defendant to argue out their cases.
In the plaintiff's statement of claim, Mr Netty said he flew from Accra in July 2003 to London via Milan but upon arrival in London found out that his luggage was not on board. He said he had; "to undergo a whole lot of inconvenience before his luggage was handed over to him the next day".
It said while returning to Accra on August 13, 2003, he was compelled by officials of Alitalia at Heathrow Airport in UK to pay 106 pounds for the excess weight of his hand luggage.
"After the payment, the Plaintiff's plea to the officials of the Alitalia to allow him to take his hand luggage to his seat because it contained money and other valuables was ignored.
"Neither was the Plaintiff's request for inventory to be taken on the contents of this hand luggage taken. Instead, the said hand luggage was taken to the general cargo compartment."
Upon arrival at Kotoka International Airport, Mr Nettey said he discovered that his hand luggage was not on board the flight and all attempts to locate it proved futile. A form was given to him to fill describing his hand luggage.
The statement of claim said on August 21, 2003, Mr Nettey received a call from officials of Alitalia to come and inspect a found handbag.
During the inspection, Mr Nettey found out that 1,300 pounds, two mobile phones, two wristwatches and four perfumes were missing.
The Airline was informed and the officials assisted him to complete a Missing Item Form and assured him that he would hear from them. Mr Nettey said after waiting for four days he wrote to the Defendant and requested that they paid 4,300 pounds for the lost items and the cash.
The Defendants in their reply disclaimed liability but proposed paying 20 pounds per kilo for the lost items and in addition refund the 106 pounds sterling he paid as excess luggage.
The Defendants in their statement of defence admitted most of the claims but stated among other things that the Defendants' liability did not exceed 270 dollars "unless a high value was declared as provided by the General Conditions of Carriage."
The Airlines said in the absence of such a declaration, Plaintiff was not entitled to the amount being claimed in his Writ of Summons and Statement of Claim.