JAK Foundation-Millennium Promise Alliance partner to promote well-being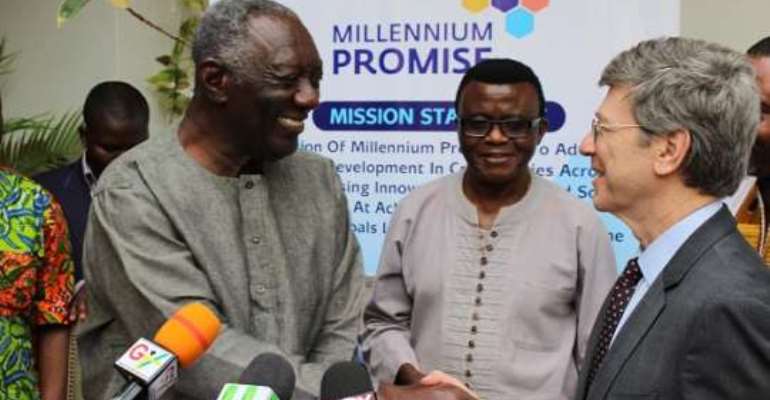 By Robert Anane and Kwamina Tandoh, GNA
Accra, Jan. 16, GNA - The John Agyekum Kufuor (JAK) Foundation and the Millennium Promise Alliance are set to promote the planting of fruit trees and backyard gardening towards reducing global warming, while encouraging the consumption of fruits for improved health.
Through joints efforts, for which a Memorandum of Understanding has been signed, they would collaborate with schools, communities and districts to achieve these goals and many others.
The collaboration also seeks to organise nutrition education and food demonstrations in communities and schools, in partnership with the School Health Education Programme of the Ghana Education Service, the Kuapa Cocoa Farmers Union Societies, and other stake-holders.
Former President John Agyekum Kufuor, the Board Chair of JAK Foundation on Sunday, signed the Memorandum of Understanding (MOU) in Accra, with Professor Jeffrey Sachs, the Board Chair of the Alliance, to formalise their partnership.
The MOU also seeks to forge partnership with the School Feeding Programme and the Ghana Education Service for advocacy towards the provision of quality nutrient-rich foods for pupils.
The advancement of sustainable food systems and reduction of post-harvest losses, as well as improving access to markets, are also covered by the MOU. Additionally, the joint efforts seek to facilitate multi-sectoral actions to advance nutrition, by working with the National Development Planning Commission to advocate the inclusion of nutrition in national development plans, and nutrition indicators in the Functional and Organizational Assessment Tool of MMDAs.
Prof, Sachs, who is also the UN Secretary General's Special Advisor on the Sustainable Development Goals, in a brief statement, said upon meeting former President Kufuor well over a decade ago, he was inspired by former President Kufuor's leadership, which played a key role in the achievement of the Millennium Development Goals, not only in Ghana, but the rest of the developing world.
He stated: 'I am here today to meet with the newly-elected President and continue our partnership with Ghana.'
Former President Kufuor said despite its great wealth potential, Africa lagged behind in progress because of inadequate technological know-how.
He said young people graduating from tertiary institutions needed an environment that enabled them to effect what they had learnt into progress for the continent.
The Former President said the background and know-how of Prof Sachs, held concrete material and promise for building the kind of environment needed to work out progress through the efficient use of our resources.
'Prof Sachs is scheduled to meet President Nana Addo Dankwa Akufo-Addo to start a path that would herald great progress for us,' he said.
The Millennium Promise is a non-profit organisation based in the US.
It aims to advance sustainable development in communities across rural Africa, using innovative solutions, especially Science and Technology.