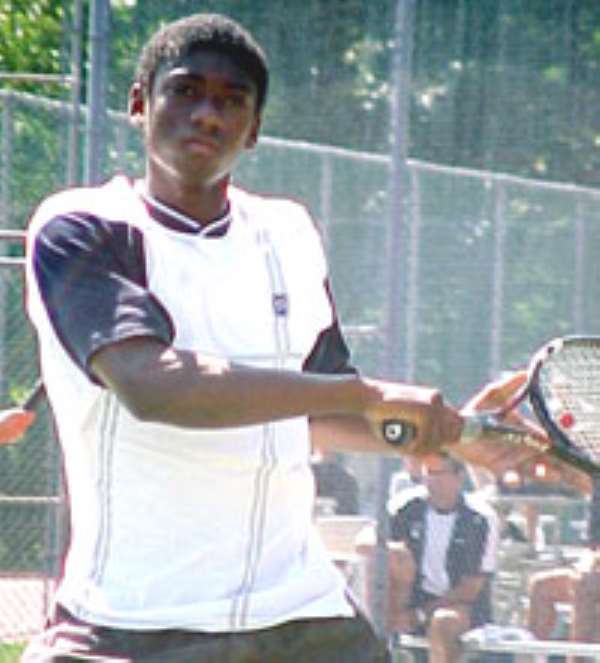 Accra, April 1, GNA - Henry Adjei-Darko, Ghana's top seed on Friday reached the finals of the Nigeria Futures Tournament when he defeated his South African opponent, Raven Klaasen in the semi finals of the competition.
Adjei-Darko who lost the first set 3-6 to Klassen came back strongly to win the two other sets 6-3, 7-6 to make his entry to the finals of the tourney, which is taking place in the Benin City, Nigeria.
Information gathered by the GNA Sports from Nigeria reveals that Adjei-Darko would meet Luca, a Slovenian opponent in the finals on Saturday morning.
The Slovenian is ranked 738 and his entry into the finals comes as a great surprise to connoisseurs of the game in Nigeria.
Adjei-Darko however told the GNA Sports that he is in no mood to underrate his opponent, though he is richer in ranking.
"I know it's going to be difficult but I have met more difficult opponents on my way to the finals and this has toughened me up to prepare for him".
"I think I'm capable of defeating Luca because I have what it takes to beat him and I can't afford to lose this game, it is a big opportunity for me to enhance my career" Adjei-Darko told the GNA Sports.
The player ranked 526 said he has enough knowledge of his opponent's style of play and has armed himself well enough for the task ahead.
A win in the finals for the Ghanaian would boost his ranking by the ITF as well as his chances in the second edition of the same tournament that will commence on Monday at the same venue in Nigeria.