2 January 2017
|
Regional News
GuangXi Chamber of Commerce Supports Kumasi Children's Home
....As Giant Step To Strengthen Ghana-China Relations
Joseph Kyei-Boateng || Kumasi-Ashanti Region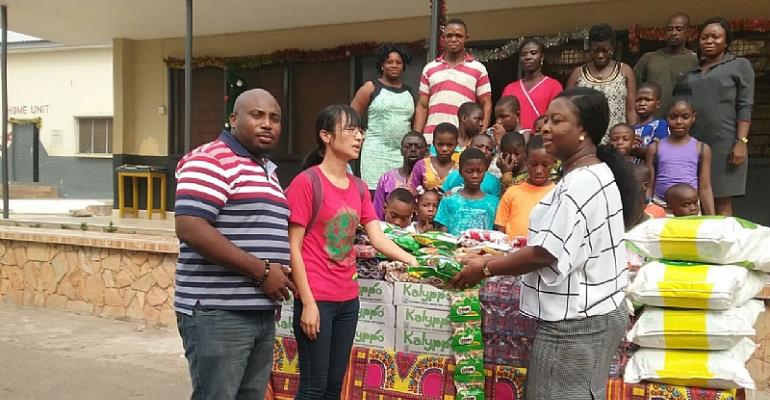 A CHINESE community representing the GuangXi Chamber of Commerce in Ghana has presented some food items to resource the Kumasi Children's Home.
The items valued at GHȻ3, 000.00 include five bags of rice, nine boxes of Kalypo, five packs of mineral water, four bags of sugar, eight packs of biscuits and assorted drinks.
The Kumasi Children's Home was built in 1965 and has been managed under the auspices of the Department of Social Welfare.
Complementing Gov't efforts
Speaking at the presentation ceremony at the home in Kumasi, a delegate of the commerce, Monica Wei who was assisted by the Liaison Officer of the commerce, Zigah Selase said it was necessary for the Chinese community to contribute its widow's mite to support needy children in a Ghanaian society.
She said some Chinese nationals, especially, those from GuangXi Province of China have been in Ghana for the past three years to engage in different business and that it was necessary for them to also give back to society.
She said government alone could not do it and it was pertinent for non-governmental organisations, able-bodied persons and Civil Society Organisations (CSOs) to come to the support of needy children.
"Under no circumstance should needy children in society, especially, those in organised homes, be deprived of support from society both in kind and cash. We at GuangXi Chamber of Commerce deem it necessary to present our support to complement the efforts by successive Ghana governments to resource state orphanages", she stated.
She however, called for close relations between the home and Chinese community and pledged more support for the home in the coming years.
Strengthening Ghana-Chinese relations
Monica Wei emphasised that the gesture was not only a contribution from the Chinese community but as a symbol strengthening Ghana-China relations both at local and international levels.
She said just as some Ghanaians have to be to China to learn of good policies, Chinese nationals in Ghana were learning from the state's intervention of managing the affairs of needy children.
Having lived in Ghana for some years now, she observed that have been beggars on the streets and a number of children been abandoned and suggested that the Ghanaian government developed child-development based policies to take care of needy children in the country, especially, those in public orphanages.
She however, called on the Ghanaian community to accord Chinese nationals living in Ghana the needed cordiality in everything for a more solid Ghana-China relation.
Gratitude
The Manager of the Kumasi Children's Home, Mabel Boamah on behalf of the home and the Department of Social Welfare, expressed gratitude to the Chinese community for the benevolence.
She appealed to the public not to relent in efforts to help resource the home so as to build the future for needy children.