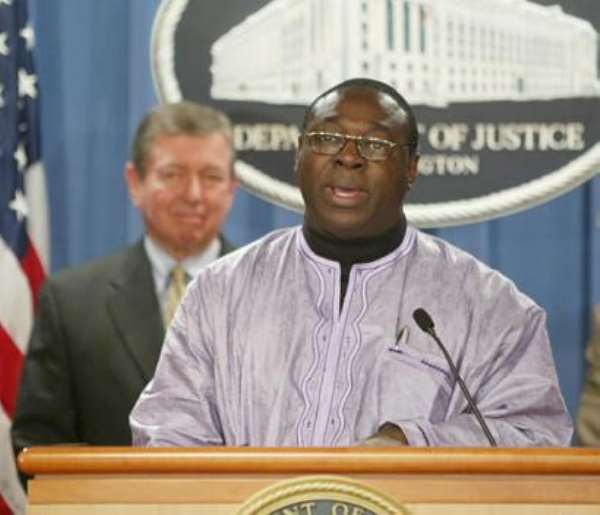 President John Agyekum Kufuor on Thursday appointed Mr Patric Kwateng Acheampong, Deputy Inspector-General of Police (Operations), as the new Inspector Inspector-General of Police (IGP). The President made the appointment in consultation with the Council of State, according to a statement signed by Papa Owusu-Ankomah, Minister of the Interior. He takes over from Nana Owusu-Nsiah, who has retired from the Ghana Police Service after attaining the age of 60 years. The statement said President Kufuor also appointed Dr Koki Kesse Manfo, Commissioner of Police (Operations) as the new Deputy IGP (Operations). Both appointments take effect from Friday, March 25. Mr Patrick Kwesi Kwateng Acheampong, who President John Agyekum Kufuor appointed as the Inspector-General of Police on Thursday, has been described as a thoroughbred Police Officer and Lawyer. His appointment is also a birthday present to Mr Acheampong, who turns 54 on Friday, when his appointment takes effect. Mr Acheampong born on March 25, 1951 was awarded Sword of Honour for being the Best Cadet Officer at the Police College Course 15 in 1976. He holds a Master's degree in Police Studies and Criminal Justice from the University of Exeter, England, with a distinction in written examinations. He holds an LLB from the University of Ghana, Legon. He is a Barrister at Law from the Ghana Law School and has a certificate in Management Development from the Ghana Institute of Management and Public Administration (GIMPA) and a certificate in Police Studies from the Ghana Police College.
Mr Acheampong was Director of the Criminal Investigations Department of the Ghana Police Service between 2001 and 2002, when Charles Quansah was arrested and convicted on the serial murders of women. He was the Commandant of the Police College in Accra between 1998 and 2001. Mr Acheampong was Deputy Commissioner in Charge of Administration at the National Police Headquarters in 1996. Between 1994 and 1996 he was the Regional Police Commander of Ashanti Region. He spent four years in the Northern Region as Deputy Regional Police Commander and later became the Regional Commander. He was Officer in charge of Special Duties at the National Police Headquarters between 1986 and 1988 and also one time Accra Central District Police Commander and also Community One District Commander in Tema. Mr Acheampong was Assistant Special Public Prosecutor at the Office of the Special Prosecutor at the National Public Tribunals and Secretary to the Inspector General of Police for seven years between 1979 and 1986. Mr Acheampong was also a Prosecutor at the courts. The Federal Bureau of Investigations (FBI) Academy National Executive Institute awarded him certificate of participation in a course between July and September 2003. In October 2002 the FBI Violent Crime, Criminal Profiling Analysis Centre awarded him a certificate of participation. He has rich experience in overseas operations. In 1997 he was on a United Nations Peacekeeping Mission Operations in Bosnia and Herzegovina. He was also an Instructor to UN Selection Assistance Team to Ghana, Senegal, Egypt and Jordan. In 2003 he was on study tour of Spanish Police Institutions including fingerprint laboratories of the Spanish National Police in Madrid and Spanish National Police Academy in Avila Spain.
He also toured selected French Police Training Academies,
Investigations Departments and Police Stations in Paris and Versailles in France.
The new IGP was on study tours of several Police training institutions. These include Belgium, Holland, Germany, Scotland, Republic of Ireland and France. Others were Chicago Police Institutions and State Forensic Science Laboratories, FBI Headquarters and National Academy, Quantico, Virginia; Washington Police Department and Crime Scene and Maryland Police Headquarters.
Between March and May in 1998 he was on attachment to Sarajevo Centre Police Station Investigations Unit and also an instructor of UNCIVPOL Pre-Mission Training School in Zagreb, Croatia and Sarajevo, Bosnia.
In 1999 he was awarded certificate for organizing UNCIVPOL Trainer Workshop for Africa. UM Mission in Bosnia awarded him another certificate of participation.
In 1998 he was certified as a UN Instructor for Selecting Assistance Team.