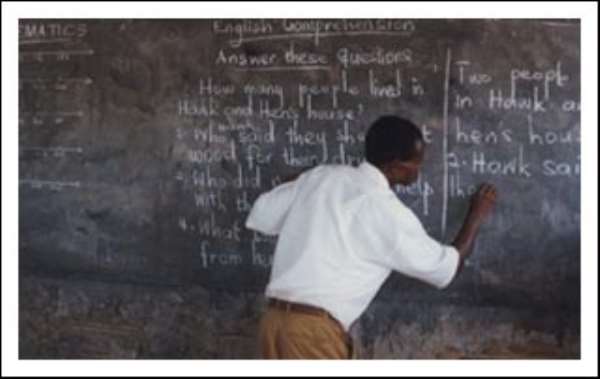 Nkawie (Ash), March 19, GNA - Hostile communities, indecent and inadequate living accommodation and poor infrastructure have been identified as the major factors that scare and prevent many newly trained teachers from accepting postings to the most deprived rural areas.
Mr Eddy Obeng-Darko, the National President of the Conference of District Directors of Education, who made the observation, said such negative situations not only discourage dedicated teachers from contributing meaningfully towards quality educational delivery but also push them to leave the profession to take up lucrative appointments in other organisations.
Mr Obeng-Darko, who is also the Atwima-Nwabiagya District Director of Education with oversight responsibility over Atwima-Mponua district, was delivering the keynote address at the second quadrennial delegates conference of the Atwima-Mponua district branch of the Ghana National Association of Teachers (GNAT) at Nkawie on Friday under the theme, "The Need for Efficient Teacher to Enhance Quality Education".
He, however, advised teachers to be proactive and innovative to achieve their professional avowed aim of enhancing quality education. "The effective and efficient teacher is the one who has drive and enthusiasm and can spur the pupils on to greater heights in the midst of scarcity", he said.
Mr. Obeng-Darko advised teachers to continuously search for knowledge and should also be abreast with modern trends. Mr. Charles Yeboah, the acting Atwima-Nwabiagya District Chief Executive, commended the teachers for their immense contribution towards the successful implementation of the Atwima Mutual Health Insurance Scheme.
Mr F.C.K. Ntim-Gyakari, the district GNAT chairman, said the association has so far spent over 35.8 million cedis to acquire two building plots and other materials to put up a permanent office accommodation for the secretariat.
He advised teachers against any negative acts that would impugn the image, credibility and integrity of the association.
Mr Baffour Asare-Bediako, an Assistant Director of Education, who presided, asked the GNAT leadership not to lord their positions over the teachers but rather be humble, obedient and submissive.
He also advised the teachers to close their ranks and contribute meaningfully towards the growth and development of the association.