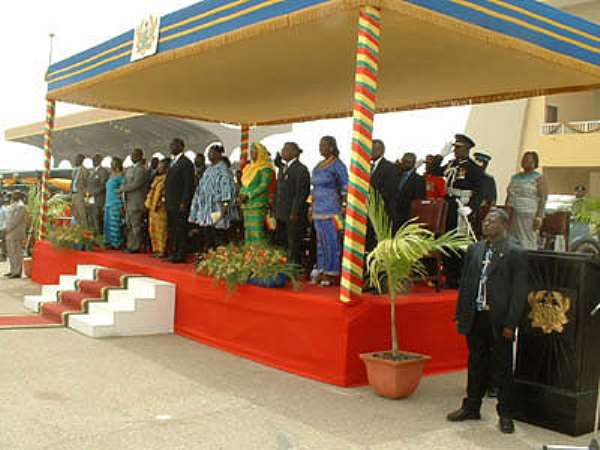 Accra, March 5, GNA - Her Majesty Queen Elizabeth II on Saturday congratulated President John Agyekum Kufuor and the people of Ghana on the 48th anniversary of Ghana's independence.
Her message, which was among 14 others read, "I have much pleasure in sending to your Excellency, my congratulations on the celebration of your National Day together with my best wishes for the prosperity and happiness of the people of the Republic of Ghana".
President George W. Bush of the United States of America wished President Kufuor well on the occasion, saying, "as your nation approaches a half century of independence, please know that the people of the United States and Ghana share the same democratic values and a strong interest in continued close relations between the two countries".
The President of the Federal Republic of Germany, Horst Kohler said in his message that in the light of the unsettling development in some West African countries, he had the hope that Ghana would continue to act as an anchor of stability in the region and assured President Kufuor that Germany will continue to be a reliable partner of Ghana.
President Jacques Chirac of France said he was aware of the role President Kufuor was playing in favour of stability in the west African Sub Region and the continuous efforts in ensuring development in the Sub-region, an effort which the whole world was proud of and renewed his country's bond of friendship, cooperation and mutual support for Ghana.
The Nigerian President Olusegun Obasanjo prayed for God's continued guidance and blessings for President Kufuor and the people of Ghana and reaffirmed the special excellent relations between the two countries.
Other messages came from the President of Ireland, Mary McAleese, The Emperor Akihito of Japan, President of the Federal Republic of Austria Heinz Fisher, the Interim President of the Republic of Togo, El Hadi Abass Bonfoh, Juan Carlos of Spain, Mohammed the sixth, King of Morocco and Prime Minister Paul Raymond Berenger of Mauritius.
The rest were, Lansana Conte of the Republic of Guinea and the President of Guinea Bissau Henrique Tereira Rosa.