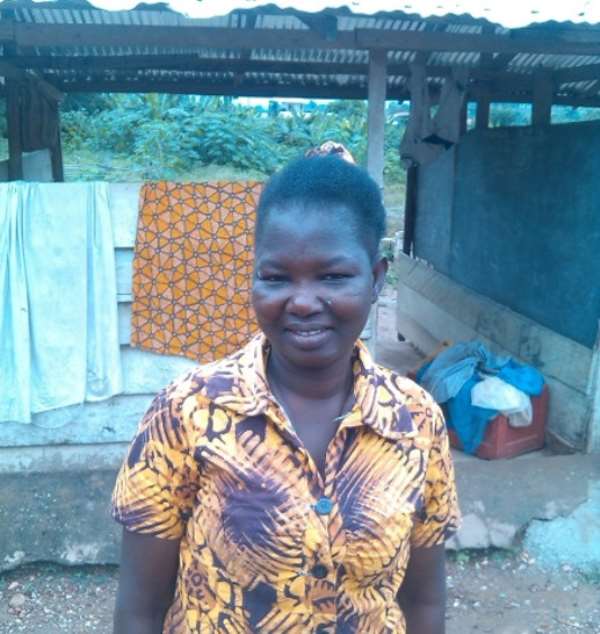 Genevieve Basingha
During her childhood Genevieve Basingha a normal girl had wanted to become a Nurse and later a Medical Doctor in the future. However, at the age of 12 her dream was cut short due a car accident at Wa in the Upper West Region of Ghana. She managed to complete Junior High School in 1994. The doctor's prescriptions could not prevent her from becoming deaf and dumb due to the accident.
She later attended the only Senior High School in Ghana for the deaf and dumb at Akwapim Mampong. Genevieve had to quit Senior High School during her first year due to financial difficulties.
She later went back to her hometown Wa and started apprenticeship to become a seamstress. Fortunately, she fell in love and got married to her current husband in 1997. The couple travelled from Wa to Obuasi in the Ashanti Region of Ghana due to the husbands work. She therefore could not complete her apprenticeship.
At Obuasi, she refused to give up on herself and the many abandoned deaf and dumb children everywhere. Therefore she channelled her passion to co-found one of the few Schools for the Deaf in the whole of Ghana in the year 2014. She began the Research Utilization School for the Deaf (RUSFORD) at Obuasi with few students.
In a period of two years, Genevieve has provided access to basic education for more than 100 neglected deaf and dumb children who never thought that they would ever have access to basic education. The school has poor housing facility, lacks access to potable water, lacks food, finances, teachers, teaching and learning materials.
Nonetheless, Genevieve does not treat these deaf and dumb children as just students, she has made them her family. With the help of her deaf but abled and supportive husband who works in Takoradi in the Western Region of Ghana, she provides home, food, security and clothes for the abandoned students and Staff of the school through all the hard times even when the parents of these deaf and dumb children, the community members and the government have turned deaf ears and blind eyes to the pleas of the children, staff and the school. She is also one of the two teachers beside Agyemang Prempeh who teach 50 pupils from primary School 1 to 6.
Genevieve Basingha is a change maker and a heroine of our time. Genevieve has shown that disability is more than ability and you don't need to be fully normal or not disabled to make a long lasting impact in your community and the country.
RUSFORD has currently partnered with the PA-YAS Foundation and J-CommIT Enterprise for a School Farm Program to provide food and funds to develop the school.
By Janix K. Asare
To support Genevieve kindly contact Janix Asare
Mobile: +233 264 573 743 or [email protected]

Genevieve teaching the deaf children

Genevieve and Agyemang Prempeh (right)