Ms Oforiwah Asare crowned Face of Central University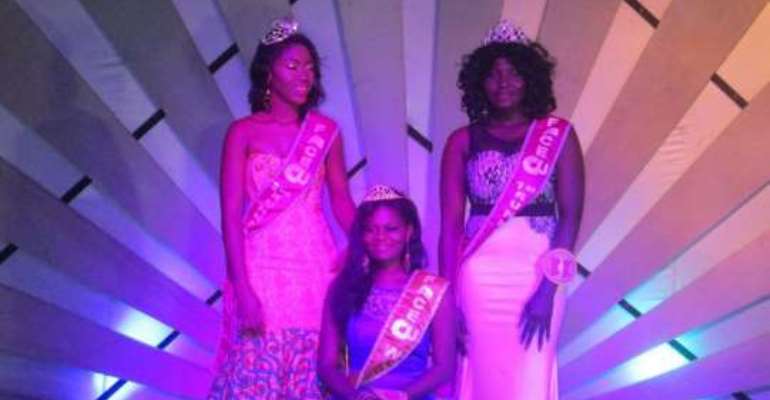 By Iddi Yire, GNA
Accra, May 20, GNA - Miss Stephanie Oforiwah Asare, a level 200 student offering law at Central University (CU), has emerged winner of the 2016 edition of the University's annual beauty pageant dubbed: 'Face of Central University.'
Ms Oforiwah Asare came top among other nine contestants after three sessions of modelling, exhibition of talents and questions and answers.
Ms Akua Adobea Obuobi, a level 300 student offering Human Resource Management, was adjudged first runner up, whilst Suzan Annette Peterside, a Nigerian student a level 300, offering Communication Studies was adjudged second runner up.
The crowned queen put up a spectacular performance and exhibited her talent by portraying Ghana's cultural heritage relating to the songs, food, language, the need to preserve the country's heritage as well as the need for young females to dress decent.
She also did a presentation on Trokosi, and was passionate about changing the socio- cultural settings that impede the progress of women.
She outlined ways by which she would contribute to end Trokosi and empowering women, if she is crowned Face of CU 2106.
Ms Oforiwah Asare who also grabbed Miss Eloquence and Miss Talent on the night, was awarded a scholarship to pursue a Master's Programme in China with tuition and accommodation fully paid for.
She was also offered an opportunity to work with an NGO on her chosen project work, sponsor product packages and a cash prize of GH₵ 1,500 from the Students Representative Council (SRC) Women's Commission.
In an interview with Ghana News Agency, she expressed excitement, adding that her role is to embark on a project concerning Trokosi, which is an outmoded custom, as such; she would create more awareness on the need to abolish the practice.
She said according to the Trokosi tradition, virgin girls are given to a village priest as a way of appeasing the gods for crimes committed by family members, and so, the entire team would visit villages particularly in the Volta region, to save the victims.
Ms Beatrice Gyimah, the SRC Women's Commissioner of CU, the annual event unearths talent and bring together beauty, intelligence and entertainment.
'The pageant is not all about beauty, but to unearth people who can support and promote community development.'
The Women's Commissioner expressed gratitude to the sponsors and the media for contributing towards the success of the event.
She advised young females to focus on their education and how to empower themselves.
She tasked them to build careers outside their disciplines in school and should always strive for the best.
The ceremony saw Hip Hop Artiste Pappy Kojo and Afro Pop Duo Gallaxy gracing the occasion with their well-rehearsed act, as the audience sang along.
Special awards such as 'Youth Mentorship Award and 'Enterprising Youth Ambassador Award' were given out to Mr John Kofi Appiagyei, the Managing Director, T Best and Jeba Naturals, and Mr Gideon Oyiadzo Jingles, the Operations Director, Abba Investments, respectively, for their contributions to youth empowerment.
Face of CU 2016, was organised by the pageant organised by the Women's Commission of the SRC, with the support of Abba Investments on a five-year contract; and was sponsored by American Silky Hair, Latex Foam, Frytol, Fortune Rice, Yazz, Hooch Corn Flakes, T Best Aloevera Drink and Jeba Naturals.
GNA