Ambassadors inaugurated to advocate for persons with albinism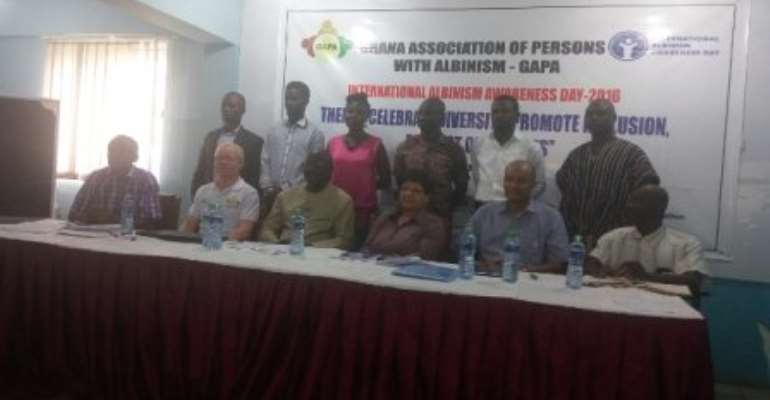 By Eunice Hilda Ampomah, GNA
Accra, May 19, GNA - The Ghana Association of Persons with Albinism (GAPA) has inaugurated a 29-member Ambassador team to serve as advocates for the rights of persons with albinism and other disabilities.
About 95 per cent of the Ambassadors are media personnel out of which 45 per cent are residents of Accra while 50 per cent are residents in the other regions.
They were selected due to their commitment to support the Association.
The inauguration ceremony was done during the celebration of the International Albinism Awareness Day in Accra on the theme: 'Celebrate diversity, promote inclusion, and protect our rights.'
Mr Adam Abdul Wahab, an Advocacy Officer, GAPA said there are erroneous beliefs and myths put the security and lives of persons with albinism at constant risk.
He said people believe that body parts of persons with albinism have magical powers and if used in concoctions could make one rich.
'It is sad to note that although there have been reported cases where persons with albinism had been abducted and murdered for rituals or denied full access to society in some parts of Ghana, the government has taken no action on these issues,' he said.
He said meanwhile Article 17(2) of the 1992 Constitution states that 'a person shall not be discriminated against on grounds gender, race, colour, ethnic origin, religion, creed or economic status'.
Mr Abdul Wahab disclosed that a 19 year old albinism student Fataw Yusif had to quit Atebubu Senior High School due to threats and horrendous stories about the danger of persons with albinism in the town.
He noted that another flagitious area for persons with albinism is Abaase in the Brong Ahafo Region where they are seen as abomination and a curse and therefore should be used for rituals.
He said another area where rights of persons with albinism are trampled upon is Bukruwa in the Eastern Region where sacrificing persons with albinism is a century old tradition of the town and cannot be abolished.
Mr Jonny Osei Kofi, Deputy Chief of Staff at the Presidency, speaking to the GNA in an interview said the government has set up a citizen complaint centre, which would be inaugurated soon.
He said the centre would enable all persons to present their petitions and complaints against any person irrespective of the individuals' status that tries to trample upon one's rights.
He said the complainant would not need to identify him/herself in a case presented at the centre.
Mr Kofi said the government would take the necessary steps to seek redress against anyone who tries to discriminate persons with disabilities (PWDs) in any way.
'Employers should give PWDs an opportunity to demonstrate their competence instead of deciding for them that they can't work or deliver as expected of them,' he said.
Ms Lilian Bruce-Lyle, Chairperson of the Board of Trustees, GAPA urged the Ambassadors to educate the general public that a child born with albinism is not useless and brings no misfortune to his or her family as some people perceive, stressing that they equally have potentials as everyone.
'We will always ask for our rights because disability rights are also human rights, therefore we urge the government to construct a barrier free structure on all footbridges and roads for us,' she said.
She appealed to the media to give PWDs platforms to fight for their rights without having the notion that such stories don't sell.
She said sometimes it is not about making profit that is important but taking a step for the benefit of the populace.
Mr Max Vardon, Member of Board of Trustees, GAPA said Africans complain about discriminatory against blacks in other continents just because of their colour, however, some Africans also discriminate against persons with albinism.
He said: 'Why should we deny the humanity of other people simply because they have a different colour of skin and why should we perpetrate injustice to others simply because they are a bit different from us?'