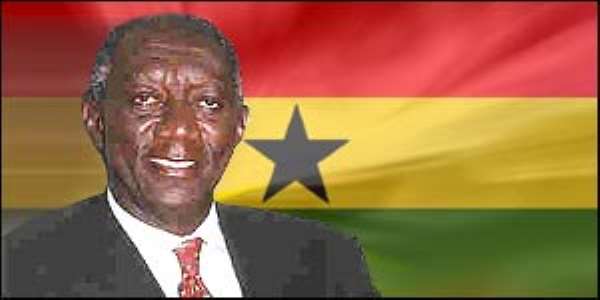 Accra, Dec.7, GNA - President John Agyekum Kufuor was the 398th voter to vote at the Dzorwulu Open Space Polling Station in the Ayawaso West Wuogon Constituency in the Greater Accra Region. His wife Theresa and Mr Kwadwo Okyere Mpiani, Chief of Staff, also voted at the station that has 965 voters.
Speaking to a horde of both local and foreign Journalists, who struggled to pose questions to President Kufuor after voting, he said: "I sense a lot of goodwill all over the country with the orderly manner the elections are being conducted.
"With about a third of the voters voting by now; today would be a very eventful day because the electorate would decide in a historic manner. So far reports do not show any violent trend and will remain the same throughout the day", he said.
President Kufuor said generally the massive turn out of the electorate indicated that the Government was on the right path towards socio-economic development and "surely they are giving me the victory today".
In an answer to alleged vote rigging, President Kufuor said: "As foreign Journalists you are witnesses to what is happening. The massive turnout and the manner the elections are being conducted. You have to tell the whole world what you have seen whether the elections are being rigged. Such noises would come from the voice of a very disgruntled person."
President Kufuor in an answer to another question whether the current Executive would be changed, he said: "My party is so well endowed with talents for whatever team we shall use next year." He said the main target for the Government next year would be to move the country from poverty to prosperity and "I wish Ghanaians all the best."
Mr Jake Otanka Obetsebi-Lamptey, National Campaign Manager of the New Patriotic Party (NPP), said "I am hopeful we will have good results today."