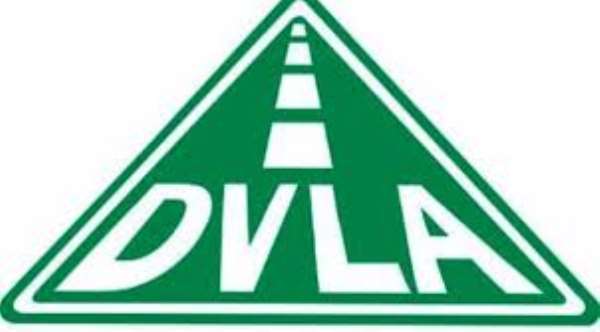 At the start of these series, the writer identified three factors as being wholly or in part responsible for the near battle site scenes on Ghana roads. These factors include the State, transport operators/owners and passengers. Parts I, II and III looked at the contribution of the State/Government to the 'murder' on Ghana roads. The contribution of the State/State actors to the 'murder' on our roads mentioned earlier include but not limited to the importation of 'rubbish' termed used vehicles and spare parts including tyres; the wrong design of our roads and lay out; suicidal road signage among a host of others.
Another State actor contributing greatly to the 'murder' on Ghana roads, is the Driver and Vehicle Licensing Authority (DVLA), aka "Dangerous and Very Lax Association" (DVLA).
This is the Authority that is mandated by Statute/Law to test vehicles and drivers and license them accordingly. However, almost all stakeholders of the DVLA, be they Ghanaians or foreigners can vouchsafe that, the 'murder and carnage' on Ghana's roads, is courted; a relationship is started; a 'Pastor/Imam' joins them in Holy Matrimony; conception takes place; and by the grace of some dishonest DVLA officials, the murder and carnage on our roads is delivered around the Kintampo Waterfalls and other numerous locations around the country.
This not something the writer is making up! Anas Arimeyaw Anas, captured some dishonest DVLA officials taking backhanders (bribes), and issuing licenses to non-existent individuals and in some instances, disabled people whose disability is such that, they can't drive. It must be noted that, some disabled people can drive better than some abled people.
I have a personal experience with the DVLA regarding a family member. The family member attended a driving school (assuming those schools claiming this title actually qualify as a transport company's canteen in some jurisdictions) five (5) years ago and booked for a driving test at the DVLA Greater Regional Offices located close to the 37 Military Hospital. The test route used by the DVLA in Accra, is a side road near the Kotoka International Airport. This is a dead end road, with absolutely no traffic whatsoever.
It is evident that, the DVLA driving test examiners and the whole bunch at the DVLA marauding and puffing around as the 'big men' as the case is in Ghana, have failed to grasp the fact that, these learners they use a quiet dead end road to examine their non-existent driving skills on, are not getting their licenses to drive on quiet and secluded and dead end roads. They are getting their licenses to drive on the busy Accra roads and the Accra to Kintampo, then onwards to Tamale and Bolgatanga in the Upper East Region.
The results of the DVLA actions/inactions are manifest for even those who don't have eyes and ears to see and hear. The officials of the DVLA are forgetting that, issuing a license to an unqualified driver puts the life of everyone including the DVLA officials, their families and friends lives at risk.
In the United Kingdom (UK), I failed my first and second driving tests for a category B license (car). On both occasions at the debriefs, the examiners made it clear to me that, if they issued me with the license, they will be putting my life and everyone's life at risk, even though I had different examiners on the two (2) separate occasions, the reasoning coming from the examiners was exactly the same.
I failed my first test for failing to anticipate that a lady and a child walking close to a zebra crossing were highly likely to use the zebra crossing. The child was likely to cross the road without looking left and right, and so, I should have slowed down and kept a watchful eye on them. In Ghana, the zebra crossings are seen by some drivers as mere decorations on the road.
On several occasions, I stop at zebra crossings to allow venerable road users like pedestrians and cyclists to cross, and other drivers, notably, taxi and trotro drivers are on their horns, tooting them as way of prompting me to get rolling. Such drivers (and they should be grateful to be described as such, because they are worse than AK 47 rifles switched on automatic), it is apparent, that they paid backhanders to obtain their licenses without going through any training or driving test.
Even if they had gone through any training, it is obvious that, those who trained such 'machine guns or suicide bombers' and they are mistakenly termed drivers, also didn't know the basic principles of driving. "The blind leading the blind". Sincere apologies to all those who are visually impaired.
I once asked a trotro driver the meaning of a yellow box junction and his reply was that, it was a mere decoration of the road. One can find a yellow box junction at the traffic lights outside the Flagstaff House on the main 37 to the Sankara/Ako Adjei interchange. A yellow box junction warns a motorists not to enter it unless one can drive clear of it without stopping anywhere in that box. Did the DVLA carry out any public education prior to the introduction of yellow box junctions in Ghana? The answer is a no.
The reason for my second failed attempt to obtain a driving license in the UK was as a result of doing 43 mile per hour (mph) in a 40 mph zone. Even though there were no speed cameras on that stretch of the road, the examiner was right to have failed me. One can't even think of paying a bribe. An attempt is enough to land an individual in jail. I put in the effort and passed the category B on my third attempt and went on to pass Categories C, C+E, D, and D+E with ease. This is where officials paid to do a job, look no further for extra income other than what they are officially paid. It is not that workers in Europe and America are paid extraordinary wages. The workers over there in Europe and America are contended with their wages/salaries. They are not greedy, and they do not close from work and go to sit and drink countless bottles of beer and what have you at rats and maggots infested spots.
The family member mentioned earlier was asked to pay Ghc 50 before they will be passed. I asked the family member not to pay. Up to date, that family member has no driving license. Without paying this money, the examiner will not pass the learner! This is what is going on at the DVLA, but they will deny the existence of such a culture until my big brother, the Honourable Anas Arimeyaw Anas, comes out with undisputable video footage. This is not limited to the Greater Accra Regional offices of the DVLA. A friend had a similar experience in the Central Region.
What the officials at the DVLA fail to foresee is that, if a license is issued to an undeserving person, it is nothing other than a killer worse than a suicide bomber being put on the road. How many lives were lost in the recent Kintampo Waterfalls Metro Mass Bus head-on collision with the tomato laden truck? How many lives on average does a suicide bomber take along with themselves when they blow up? Am not good at Maths, but my Head of Department, Professor Okpoti, who is a Professor of Mathematics, is always at hand to mentor me in difficult situations like this. Prof, over to you!
To be continued!!
Alhassan Salifu Bawah (Lecturer)
School of Administration
University of Education, Winneba
Email: [email protected]